Georgetown Galleries
------------------------------------------------------------------------------------------------------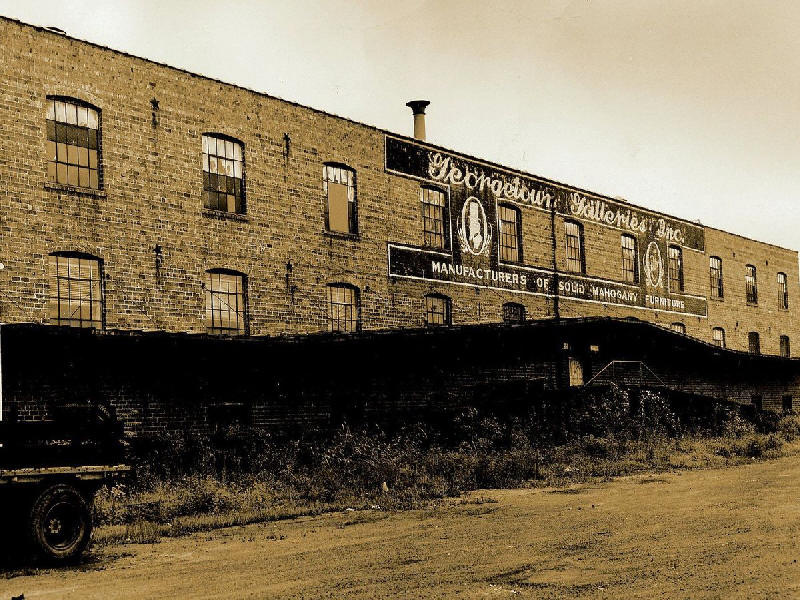 In 1959 , Davis Wholesale leased the former Georgetown Galleries building.
------------------------------------------------------------------------------------------------------
HUNTINGTON-- Huntington once was home to a thriving furniture industry. One of the city's best known
furniture makers was Georgetown Galleries. The firm had a world-wide market for the solid mahogany
and cherry furniture it produced at its East Huntington plant.
The firm began as the Empire Furniture Co. founded by Biggs-Probst Furniture Co. In 1905,
it was purchased by C. Lloyd Ritter, who changed its name to Huntington Furniture Corp.
In 1946, the name was changed again, to Georgetown Galleries. The thinking behind the change was twofold:
First, to convey the character of the 18th-century and Early American styles of the furniture the firm produced.
And, second, to avoid confusion with other furniture companies that used "Huntington" in their name.
The company's plant utilized a million board feet of mahogany every year and a half million feet of cherry,
turning the fine wood into an array of designs for virtually every room of the house. A workforce of between
175 and 200 workers produced $3 million worth of furniture a year, destined for customers in virtually every state
and a number of overseas countries. A staff of salesmen called on stores and decorators nationwide, and the
company maintained permanent displays at the Merchandise Mart in Chicago and in High Point, North Carolina.
In a 1954 interview with the Huntington Advertiser, Herman W. Schoenlein, then the company's vice president
and plant manager, said the furniture made by Georgetown Galleries "will last indefinitely,
will mellow with age and will certainly be treasured by generations to come."
Later in the 1950s, Georgetown Galleries encountered financial problems and ceased production. In 1959,
Davis Wholesale Co. Inc., a wholesale grocery business, leased the furniture maker's 22nd Street building.
In 1963, a U.S. District Court judge in Ashville, North Carolina, declared Georgetown Galleries bankrupt
and ordered its remaining assets sold at public auction.
-----------------------------------------------------------
Note: This Article and picture appeared in the Herald-Dispatch Newspaper on Dec. 08 , 2014
-----------------------------------------------------------
[ Back ]