Gold Furniture Company
------------------------------------------------------------------------------------------------------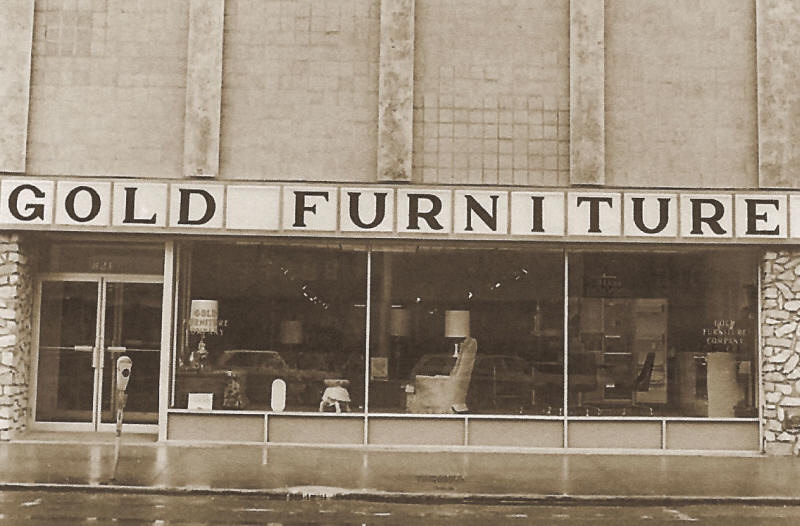 The Gold family operated their furniture store in downtown Huntington for 57 years.
------------------------------------------------------------------------------------------------------
HUNTINGTON -- A young furniture buyer from Cincinnati was sent to Huntington in 1918,
tasked with visiting the city's several furniture factories and placing orders with them.
He liked what he saw and, on returning home, told his wife "Honey,
I've found the town where I would like to live."
Stanley S. Gold later recalled: "Walking from the C&O station
to the Hotel Frederick, I fell in love with Huntington."
A year after his visit, Gold and his wife Matilda moved to Huntington.
At first he worked as manager of a local furniture store. Later he went
on the road selling furniture. And in 1924 the couple opened their own
store, the Gold Furniture Co. Matilda Gold assumed duties as office
manager and a brother, Harold J. Gold, came from New York to join
the fledgling furniture store, located at 3rd Avenue and 9th Street.
In 1929, the store moved to a larger building at 828 4th Ave.
In 1973, the store moved again, this time across the street to 821 4th Ave., a four-story building
that had been vacated when Simon and Herman Fetter decided to retire and close their
Fetter Furniture Co. The furniture store's new home was remodeled with a distinctive
facade featuring large glass display windows, colorful ceramic
tile and New Orleans style gas lamps.
In 1981, the Gold family sold their 57-year-old store to a new management team. Dorothy Gold Broh,
the store's manager, explained: "It's always been a family business, and there's nobody in the
Gold family at this time who is interested in maintaining the business,
so we thought it more expedient to sell."
The store later closed. Today, the former furniture store is home to the
Mountain State Center for Independent Living.
-----------------------------------------------------------
Note: This Article and picture appeared in the Herald-Dispatch Newspaper on July 17, 2017.
-----------------------------------------------------------
[ Back ]