Guthrie-Steenburgen Hospital
------------------------------------------------------------------------------------------------------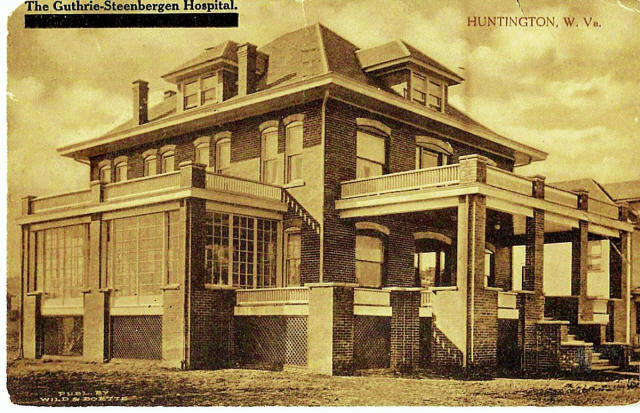 Three generations of the Guthrie family operated Huntington's Guthrie Hospital.
------------------------------------------------------------------------------------------------------
HUNTINGTON -- In 1912, two Huntington physicians, Dr. Joseph A. Guthrie and Dr. John Steenburgen,
joined forces to open a new hospital on the southwest corner of 6th Avenue and 6th Street.
The Guthrie-Steenburgen Hospital was certainly a far cry from today's giant medical centers.
But it was typical of that era's many small hospitals. Few weathered the tough days of the
Great Depression, and fewer still survived the challenges of the World War II years and
the modern post-war era. But Guthrie Hospital, as it came to be known, managed to
defy the odds and continue in operation until the 1980s. That it did so was
a testimonial to the dedicated efforts of the three generations
of the Guthrie family who practiced there.
Born in Athens, Ohio, in 1878, Dr. Joseph Guthrie graduated from the University of
Maryland Medical School in 1903. He first established a practice at Ravenswood,
West Virginia, but the next year moved to Huntington. Later, his son William also
graduated from the University of Maryland and joined his father's practice.
And in 1978, William's son Robert followed in the footsteps of his father
and grandfather, first at the Baltimore school
and then at the Huntington hospital.
Dr. Joseph Guthrie died in 1955, and for a while his son William ran the hospital alone,
a task that kept him busy. "I delivered 220 babies in one year, working day and night,"
he later recalled. In 1959, Dr. Gary Ripley joined the hospital after
working there as a volunteer when he was a youngster.
Guthrie Hospital once had as many as 60 patient beds but by the 1970s was operating
only 32 beds. The Cabell Huntington Hospital Foundation purchased Guthrie Hospital
in 1986. After an unsuccessful effort to establish a residential alcohol and substance
abuse unit at Guthrie, Cabell Huntington and Dr. Ripley operated it as a one-doctor
clinic. After two years, however, long-postponed repairs to the dilapidated
old building and continuing financial pressures combined to force
Guthrie's closure. It subsequently was demolished.
-----------------------------------------------------------
Note: This Article and picture appeared in the Herald-Dispatch Newspaper on Nov. 10, 2014.
-----------------------------------------------------------
[ Back ]