Gwinn Brothers Mill
------------------------------------------------------------------------------------------------------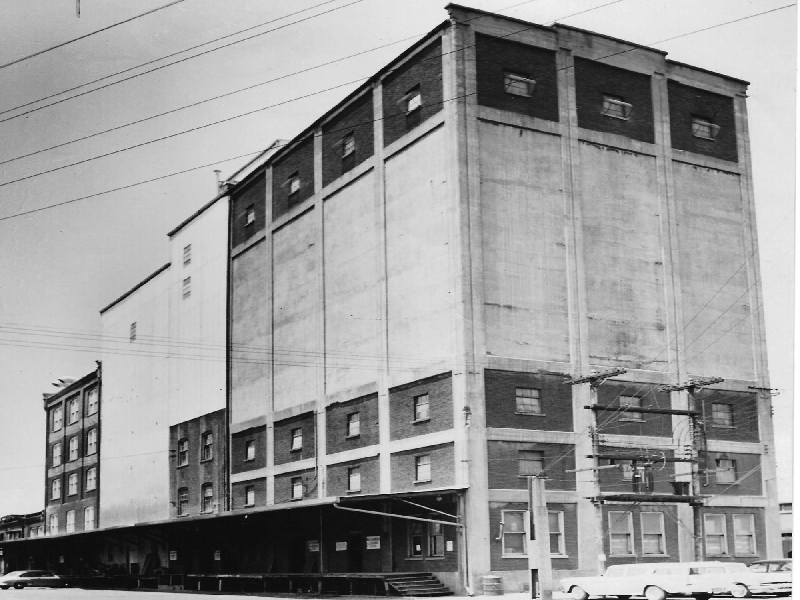 The Gwinn Brothers Mill was demolished in 1970.
------------------------------------------------------------------------------------------------------
HUNTINGTON -- For more than 70 years, from 1889 to 1962, the Gwinn Brothers Milling Co.
was a familiar part of downtown Huntington.
In 1883, brothers O.E. and W.W. Gwinn built a grist mill near their general store at Glenwood in Mason County.
By the late 1880s, the brothers were milling more flour than they could dispose of in Glenwood. So they sold
the general store, dismantled their mill, loaded it on a barge and floated it down the Ohio River to the foot of
10th Street in downtown Huntington. There, they were welcomed by their brother Gene,
already established as a Huntington grocer.
From that humble beginning grew a successful business whose busy mill at 2nd Avenue and 10th Street produced,
at its peak, hundreds of barrels of flour and corn meal and hundreds of tons of commercial feed every day.
The only large flour and feed mill in West Virginia, its sales territory covered southern and central West Virginia,
southern Ohio, Kentucky, Virginia and even North Carolina. Rebuilt and expanded over the years, the mill filled
as many as 5,000 paper flour bags a day and another 4,000 bags for corn meal and other products.
After completing his education, D.B. Gwinn, the youngest of the Gwinn brothers, took over the
office work at the mill and gradually assumed greater responsibility in running the company.
After the death of W.W. Gwinn, D.B. Gwinn succeeded him as company president.
In 1910, D.B. Gwinn built a handsome home on the north side of 5th Avenue between 15th and 16th streets.
Designed by Edwin N. Alger, one of Huntington's best known and respected architects of the day,
the house is now owned by Marshall University.
In April of 1962, the surviving members of the Gwinn family sold their majority interest in the
company to a Milwaukee wholesale grocery and feed mill company. The following July the new
owner said that competitive pressures were such that the Huntington mill couldn't be operated
profitably. The mill was shut down and all employees let go. The mill was demolished in 1970
as part of the city's downtown urban renewal project.
-----------------------------------------------------------
Note: This Article and picture appeared in the Herald-Dispatch Newspaper on Sep. 22 , 2014
-----------------------------------------------------------
[ Back ]