Huntington Blue Sox
------------------------------------------------------------------------------------------------------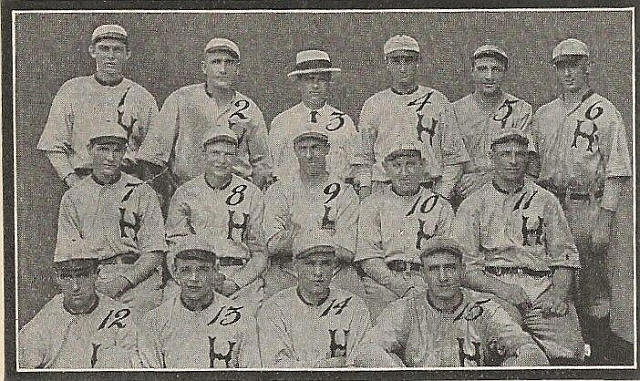 The Huntington Blue Sox was the cityís first professional baseball team.
Courtesy of James E. Casto
------------------------------------------------------------------------------------------------------
Huntington was a rapidly growing community in 1908 when League Park
was built at the end of West 8th Street. The Ohio River was just
beyond the outfield. The park held 3,000 to 4,000 spectators.
Baseball fever struck the city when the Huntington Miamis quickly
moved in and became the cityís first professional baseball team.
They played in the Ohio-Indiana Class D minor league. Their
stay proved short lived, but it didnít take long for Huntington
to land another team ó one with a world-famous manager.
They were known as the Blue Sox, but that name didnít become
official until the next season. What was official was their
manager, future Hall of Fame pitcher Cy Young.
He was still an active pitcher for Cleveland,
but in the twilight of his big league career.
Huntington entered the Class D Virginia Valley League, a six-team
lineup that included five West Virginia teams in Montgomery,
Charleston, Parkersburg, Point Pleasant and Huntington,
along with Ashland, Kentucky. Huntington won the
1910 league championship with a 61-42 record.
Cy Young left Huntington after the season, but his legacy
as a pitcher is unlikely to ever be matched. The right-
hand pitcher won an amazing 511 games during his
tenure in baseball, almost 100 more than any other
pitcher in history. He recorded 30 victories on
five occasions and won 20-or-more games
16 times. He retired from baseball in 1913.
Albert Knoessell took over as a player/manager in 1911,
and the Blue Sox name became official. The Virginia
Valley League also changed their name to the
Mountain States League. In 1912 the
league West Virginia.
In 1913, the Huntington Blue Sox moved to the Ohio
State League through the 1916 season. They played
under the name Huntington Babes in 1915, becoming
the Blue Sox again the next year. The Blue Sox
were the last baseball team to be based in the
city until the Huntington Boosters
was formed in 1931.
-----------------------------------------------------------
Note: This Article and picture appeared in the Herald-Dispatch Newspaper on Nov . 29, 2022..
-----------------------------------------------------------
[ Back ]