Hadacol Caravan
------------------------------------------------------------------------------------------------------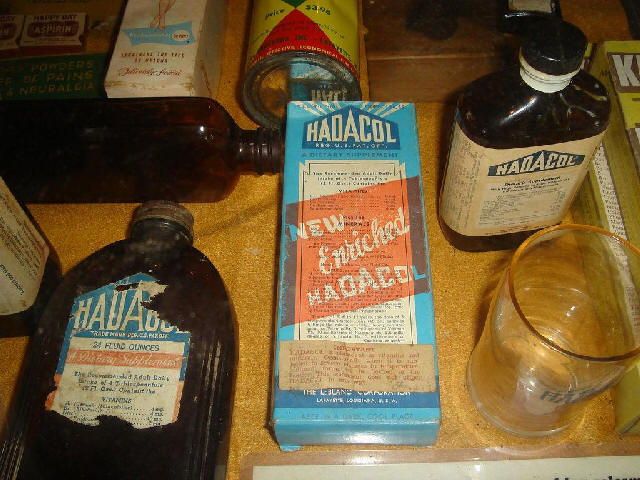 ------------------------------------------------------------------------------------------------------
HUNTINGTON — Hadacol was a patient medicine marketed in the late 1940s
and early 1950s as a vitamin supplement. Its principal attraction,
however, was that it contained 12% alcohol,
listed on the bottle as a "preservative."
The tonic was the creation of four-term Louisiana State Sen. Dudley J. LeBlanc.
He was neither a medical doctor nor a registered pharmacist. He
was, however, a colorful and tireless pitchman who turned his
product into a big-selling but short-lived phenomenon.
LeBlanc had a talent for coming up with catchy names. He also peddled something
Dixie Dew Cough Syrup. Asked about his tonic's odd name, he often joked,
"Well, I hadda' call it something." He flooded the radio airwaves with
enthusiastic (if dubious) testimonials to the powers of the seemingly
miraculous liquid, turned the ad's jingle into a popular
recording called the "Hadacol Boogie" and
created the Hadacol Caravan Show.
With a frequently changing cast of entertainers, the traveling show offered
free admission but audience members had to present a Hadacol boxtop
to get in. Kids could win prizes if they gathered up and presented
stacks of boxtops. The grand prize offered at
each show was a Shetland pony.
In 1951, the Hadacol Caravan played in 50 cities in 16 states. On Sept. 2 it
rolled into Huntington for a show that night at then-new Veterans Memorial
Fieldhouse. An advertisement in The Herald-Dispatch listed a lineup
of the show's entertainers that included Grand Ole Opry stars Hank
Williams and Minnie Pearl, along with singers Dick Haymes and
Carmen Miranda and even boxing great Jack Dempsey.
(If any lucky youngster at the Huntington show won
a pony, that fact went unreported
in The Herald-Dispatch.)
LeBlanc sold his company for $8.2 million shortly before it collapsed
under a mountain of debt, and Hadacol disappeared from the
marketplace. Today, old Hadacol bottles and boxes
are prized as collector items.
-----------------------------------------------------------
Note: This Article and picture appeared in the Herald-Dispatch Newspaper on Jan. 14, 2020.
-----------------------------------------------------------
[ Back ]