Harts Family Centers
------------------------------------------------------------------------------------------------------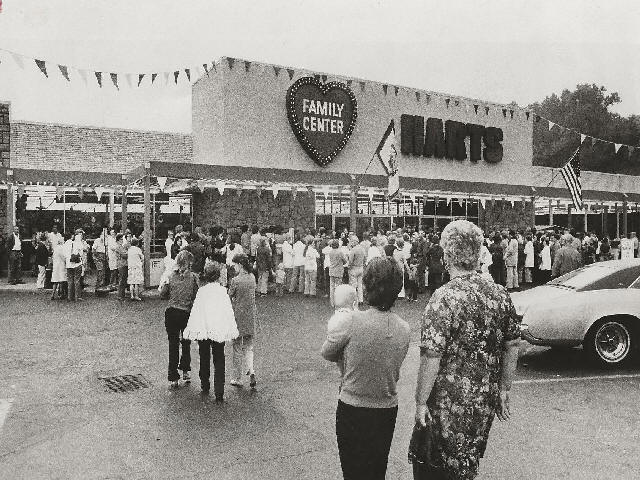 On Oct. 7, 1975, a crowd of about 300 people waited patiently for the 10 a.m.
grand opening of the new Harts Family Center store on U.S. 60 East.
------------------------------------------------------------------------------------------------------
HUNTINGTON — In 1954, Big Bear Stores Co., the Columbus, Ohio,
based supermarket chain, purchased Harts Family Centers, a regional
general merchandise chain. Under Big Bear, Harts grew rapidly.
At its peak in the late 1980s, it had 29 stores. When Big Bear opened
a new supermarket, it often opened a Harts store in an adjacent
space. Harts also had several free-standing stores in
locations that usually had been vacated
by other retail stores.
In 1975, Harts opened a free-standing Huntington store at 3100 U.S. 60 East
in a building that had been occupied by an Arlan's Department Store,
which had gone bankrupt. The new store employed about 130
people. It carried clothing, jewelry, hardware, sporting
goods, small appliances, housewares, bicycles,
prescription drugs and other merchandise.
In 1976, a second Harts store was opened in conjunction with a
Big Bear supermarket at the Ceredo Plaza. Company
officials said the Harts portion of the complex
employed about 180 people.
In 1981, Big Bear opened a new supermarket and a Harts store
in a sprawling building at 5th Avenue and 29th Street that
had been vacated when Sears, Roebuck & Co. moved
to the then-new Huntington Mall at Barboursville.
A few months later, the company closed the free-standing Harts
store on U.S. 60. A company spokesman said declining
revenues resulting from the national recession had
made it impossible to keep both the Route 60
and 29th Street stores open.
In 1989, Big Bear was acquired by a Pennsylvania chain,
Penn Traffic. Later, Penn Traffic encountered financial
troubles and ultimately filed for bankruptcy. In the
process, it agreed to sell or close
all the Big Bear stores.
-----------------------------------------------------------
Note: This Article and picture appeared in the Herald-Dispatch Newspaper on Dec. 8, 2020.
-----------------------------------------------------------
[ Back ]