Hartzell Handle Company
------------------------------------------------------------------------------------------------------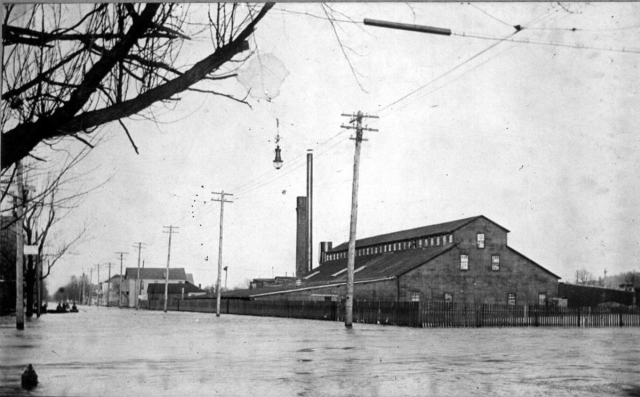 Courtesy of Special Collections Marshall University
------------------------------------------------------------------------------------------------------
HUNTINGTON ó In the 1880s, the Hartzell, Caldwell and Marr Handle Factory
on Richmond Street was the largest industry in Guyandotte. Irvin Hartzell,
who came to the area from Shepherdstown, was
the primary financer of the enterprise.
The handle factory, later renamed Hartzell & Caldwell, employed around
100 workers. In 1888, the Richmond Street factory was destroyed in
a large fire. Hartzell soon rebuilt it but in 1896 decided to construct
a new factory in Central City. It was one of the five original
industries around which Central City was formed.
The new factory, now named the Hartzell Handle Company, was located
on the south side of Washington Avenue between West 14th and
West 15th streets. The factory used hickory wood to
manufacture handles for various tools such as
axes, hatchets, hammers and spades.
The Central City factory was just one of at least five Hartzell factories
that operated in various West Virginia locales. Products from the
other factories were sent to Central City to be finished
and then shipped around the country.
In 1901 Irvin Hartzellís brother Enos, who operated a similar
handle factory in Sequatchie, Tennessee, came to Central
City and took over management of the factory.
The Central City factory closed in 1913 due to a lack of available
hickory timber in the area. The timber industry in West Virginia
as a whole experienced a precipitous decline in the 1920s
and 1930s as overharvesting left large swathes
of the state barren of any forests.
After the factory closed, it was demolished and
the property sold. Enos Hartzell chose to
stay in Huntington after his familyís
company folded. He died in 1966
at the age of 102.
-----------------------------------------------------------
Note: This Article and picture appeared in the Herald-Dispatch Newspaper on June 1, 2021.
-----------------------------------------------------------
[ Back ]