Heck's Department Store
------------------------------------------------------------------------------------------------------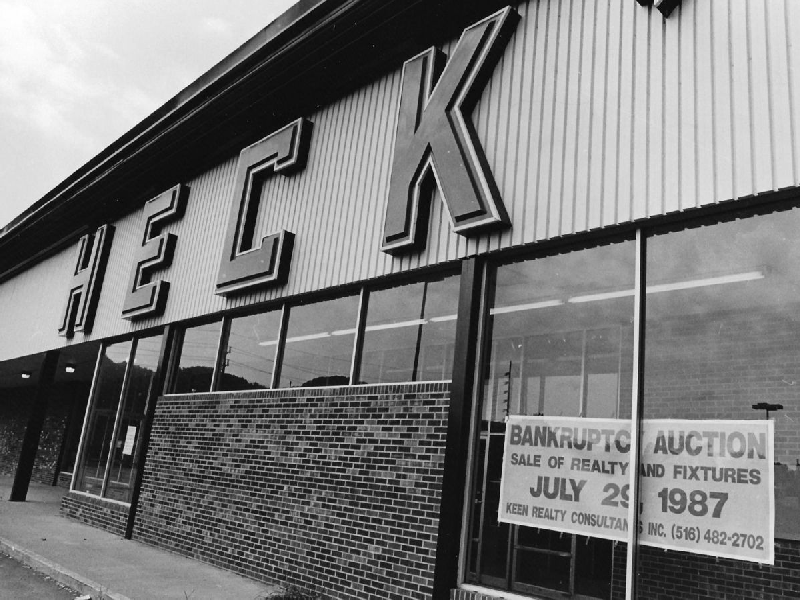 Heck's operated three locations in Huntington -- including this one on 14th. Street West
------------------------------------------------------------------------------------------------------
HUNTINGTON -- Long before Walmart ventured into West Virginia,
the state had its own homegrown chain of discount department stores.
In 1959, four Boone County businessmen opened the first Heck's department store in Charleston: Fred Haddad,
Thomas Ellis, Lester Ellis and Douglas Cook. Heck's offered a large inventory of clothing, home furnishings, hardware,
health and beauty aids, jewelry, toys, small appliances and sporting goods. It sold nationally advertised
items and its own line of goods at low prices.
The company thrived and expanded greatly from the 1960s through the '70s and '80s, buying other out-of-state discount chains.
It built an impressive headquarters on Kanawha Boulevard in Charleston and a distribution center in Nitro. According
to an article in the "West Virginia Encyclopedia," Heck's was at one point the only
West Virginia company listed on the New York Stock Exchange.
At its peak in the mid-1980s, Heck's operated 127 stores in nine states,
employed more than 8,000 workers and had assets of $300 million.
Heck's had three stores in Huntington in the Fairfield Plaza on Hal Greer Boulevard, at U.S. 60 East and Roby Road
and at 14th Street West and Monroe Avenue. It also operated stores in Barboursville; Proctorville,
Ohio, and Ashland, Russell and Prestonsburg, Kentucky.
But increased competition from Walmart and other discount chains ultimately took its toll. Profits steadily fell and in 1987
the company was forced to file for Chapter 11 bankruptcy. Its bankruptcy filing indicated the discount chain
owed more than $140 million to 2,300 creditors.
Heck's continued to operate at a reduced size until 1990, when Jordache Enterprises purchased it by paying $1 and agreeing
to assume its large debts. A year later, Jordache closed the chain's few remaining stores and liquidated what was left of its assets.
-----------------------------------------------------------
Note: This Article and picture appeared in the Herald-Dispatch Newspaper on Dec. 22 , 2014
-----------------------------------------------------------
[ Back ]