Holderby School
------------------------------------------------------------------------------------------------------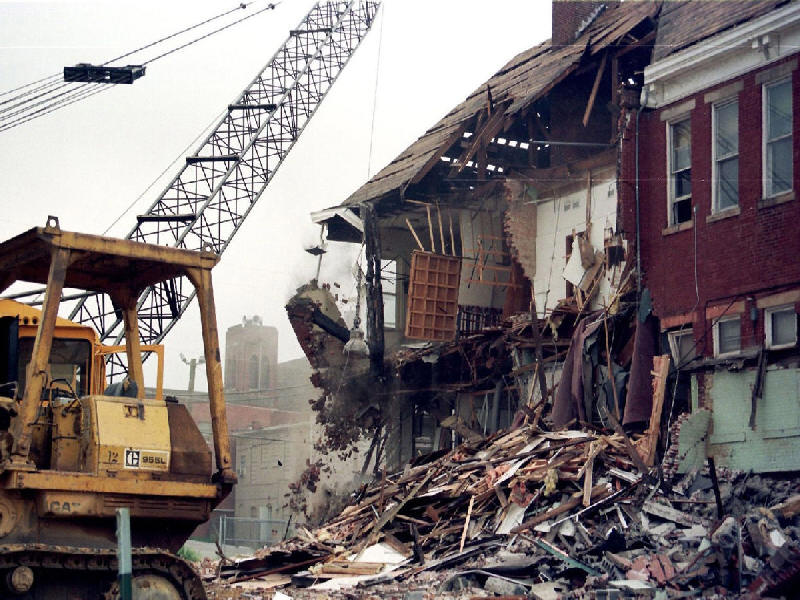 A wrecking ball crashes through the rear wall of the former
Holderby School on 20th. Street.
------------------------------------------------------------------------------------------------------
HUNTINGTON -- Built in 1891, Holderby School was the oldest still-standing school
structure in Cabell County when it fell to the wrecker's ball in 1999.
The red brick school at 620 20th St. was named for the Holderby family. The Holderbys were early settlers
and Holderby's Landing on the Ohio River was a well-known spot on the local landscape long before
railroad tycoon Collis P. Huntington came along to found his new town.
Holderby was solely an elementary school until 1933, when the Huntington and Cabell County school systems
merged and the new merged system established its offices in the school building. For more than 20 years, the school
system offices were located on the first floor while the second floor was still used for classes.Around 1957,
the school system took over the entire building.
In 1999, the school board sold the building to the adjacent University Courtyard apartment complex
which demolished it to make room for constructing additional apartment units.
The school offices moved to the former Huntington East High School building, vacant after the merger
of Huntington High and Huntington East. Before the wreckers moved in, the school system removed the bass
lights that stood outside the front door, the flag pole, some plaques, pictures, cabinets and furniture.
School officials said the move was a must, as the old building was in sad shape.
The roof leaked, the walls were crumbling and the heating system was on its last legs.
"It was so crowded, the place was really a fire trap," Skip Parsons,
the school system's maintenance coordinator, told The Herald-Dispatch.
-----------------------------------------------------------
Note: This Article and picture appeared in the Herald-Dispatch Newspaper on May. 11 , 2015
-----------------------------------------------------------
[ Back ]