Houdaille Industries
------------------------------------------------------------------------------------------------------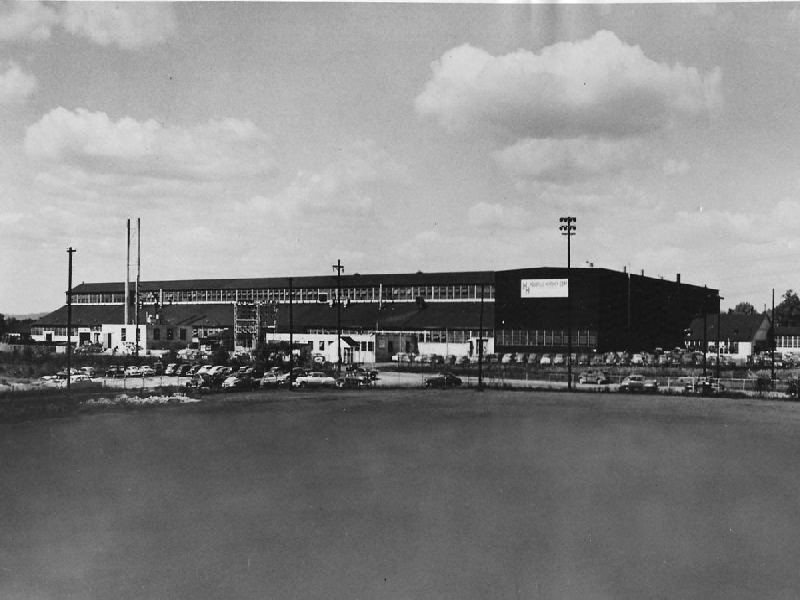 Huntington's Houdaille Industries bumper plant was said to be the world's largest.
------------------------------------------------------------------------------------------------------
HUNTINGTON -- Houdaille Industries took its name from Maurice Houdaille (pronounced "who-die"),
a Frenchman who invented recoilless artillery during World War I. After the war, a U.S. corporation bought the
name and the rights to the rotary shock absorber Houdaille had patented. By the 1930s, the company was one
of the largest auto-parts subcontractors in Detroit and the premier U.S. manufacturer of shock absorbers.
It was not unusual for a car owner to walk into a garage and ask for a new set of "Houdailles."
In 1946, the company, then named Houdaille-Hershey, acquired a Huntington plant building at 900 West 9th Street
that had been built in 1924 by the American Thermos Bottle Co. During World War II the U.S. Army Air Force
had taken over the building, using it as a warehouse. The Detroit-based company said it would start
construction of a major addition as soon as the Army vacated the facility.
The company's announcement didn't identify what auto part or parts it planned to manufacture at its new Huntington plant.
What ultimately opened in Huntington was an auto bumper plant, said to be the world's largest. Metal bumpers
made here were shipped to auto assembly plants throughout the United States, Canada, Mexico and Latin America.
At its peak production, the plant operated around the clock, employed 650 to 700
workers and produced more than three million bumpers a year.
Sheets of steel called "blanks were trucked to Huntington in pre-ordered sizes and weights. After being cleaned
and polished, the blanks were cut and shaped in gigantic two-story tall presses. From the press lines, the
unfinished bumpers were shunted to one of the world's largest electroplating systems in the world, where
they were coated with nickel or chrome. The Houdaille plant had four press lines to form bumpers,
two lines for nickel plating and one for chrome plating.
But new federal auto safety requirements and fuel-economy standards ultimately combined to render the
metal auto bumper as obsolete as the buggy whip and forced the Huntington plant to close in 1980.
-----------------------------------------------------------
Note: This Article and picture appeared in the Herald-Dispatch Newspaper on Dec. 29 , 2014
-----------------------------------------------------------
[ Back ]