Humphreys' Southside Pharmacy
------------------------------------------------------------------------------------------------------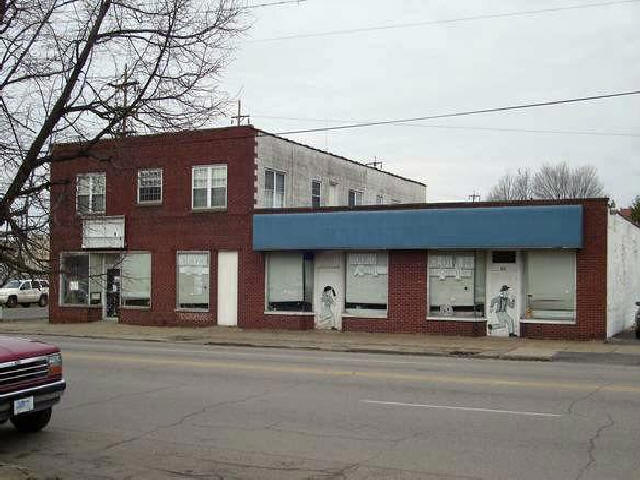 Although long vacant, the 8th. Street building that once housed
Humphreys' Southside Pharmacy is Still Standing.
------------------------------------------------------------------------------------------------------
HUNTINGTON — Time was, not so long ago, when many American neighborhoods had a small
drug store within easy walking distance of local residents. Some neighborhoods even had two
or more. Most are gone now, shuttered by relentless competition from the big drug
chains, supermarket pharmacy counters and, of course, Walmart.
Besides filling prescriptions and selling over-the-counter medicines, they sold cigarettes
and cigars, newspapers and magazines, comic books and many other things. Most had
soda fountains, and some even had sandwich menus. But Humphreys' Southside
Pharmacy offered its customers something they couldn't buy anywhere else in
Huntington — tickets for Cincinnati Reds baseball games. In that pre-
internet era, the Huntington drug store was the only
licensed Reds ticket agency in West Virginia.
In 1948, after 19 years as manager of downtown's Gallaher's Drug Store,
Harry D. "Pinkie" Humphreys opened his own pharmacy at 806 8th St.
Long active in Republican politics, Humphreys was Cabell
County sheriff from 1953 to 1957. He sold his pharmacy to
Charles C. Cook in 1972. Later, Cook sold the business
to Fruth Pharmacy, which closed it and hired
Cook to work at its 125 7th Ave. location.
Andrew W. Fischer remembers Humphreys' Southside Pharmacy
well. As a young man, he worked there from 1978 to 1982.
"I stocked the shelves and drove a used post office
Jeep to make deliveries," he recalls.
Fischer is a lifelong Reds fan. He and his wife, Karri, have installed an
amazing collection of Reds memorabilia in the huge recreation room
of their Huntington home. In 2018, the Reds Caravan heading to
Charleston stopped off at the Fischer home so caravan
members could check out the mini-museum.
A standout piece of the collection: a framed black-and-white
seating chart of the team's old Crosley Field that once
hung on the wall at Humphreys' Southside Pharmacy.
-----------------------------------------------------------
Note: This Article and picture appeared in the Herald-Dispatch Newspaper on Mar. 31, 2020.
-----------------------------------------------------------
[ Back ]