Huntington Awning & Patio Shop
------------------------------------------------------------------------------------------------------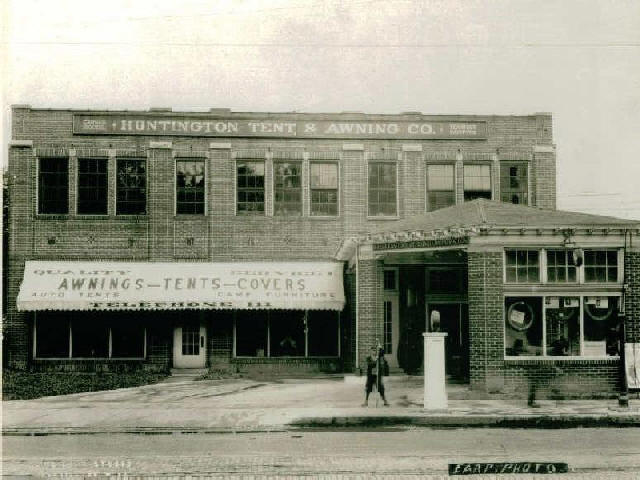 Over the years, the Huntington Tent & Awning Co. – later renamed the
Huntington Awning and Patio Shop – operated at a number of
different addresses. After Huntington Awning's years of
hard work are shown off around town.
------------------------------------------------------------------------------------------------------
HUNTINGTON -- When Huntington Awning and Patio Shop at 114 8th Ave.
closed its doors in 2012, it wrote an end to a 97-year-old business.
Owner Tom G. Proctor described his company as "another victim of the downturn
in the national economy." He said he planned to continue selling awnings to
local customers but would be working with a company in Columbus,
Ohio, rather than crafting the awnings in his own shop.
The company began as the Huntington Tent & Awning Co., established by E.M.
Peoples in 1915. Over the years, the company operated at a number of
different addresses. In its early years it was located at three different
addresses on 3rd Avenue. It then moved to 1035 6th Ave. and later
to 1305 16th St. After it went into the patio furniture business,
the re-named business needed more space and so moved
from 16th Street to its 8th Avenue location.
At first, the company primarily manufactured tents. Later it began
making commercial and residential awnings. Before the advent
of air conditioning, businesses and homeowners installed
awnings as protection against the heat of the sun. In
recent years, awnings have become primarily
decorative, favored by businesses and
homeowners seeking
a splash of color.
Peoples brought in Tom Proctor's father, Henry G. Proctor Jr., to manage
the business. After Peoples died in 1960, Henry Proctor bought
the company and merged it with American Awning Co.
In a 2009 interview with the Herald-Dispatch, Tom Proctor said
he began in the business after finishing school. Unsure what
career direction to take, he began working with his father.
"I felt it was a great opportunity to be able to work with my father. He
expected a lot from me and, honestly, he was always my hero."
When his father retired in the 1980s, the younger Proctor took over
the business. The senior Proctor died in 2011 at age 92.
-----------------------------------------------------------
Note: This Article and picture appeared in the Herald-Dispatch Newspaper on Jan. 28, 2019.
-----------------------------------------------------------
[ Back ]