Huntington First Airport
------------------------------------------------------------------------------------------------------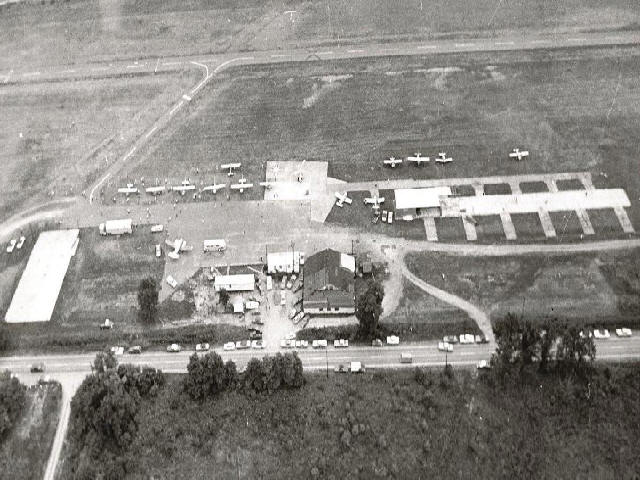 Pictured here in a 1972 birds-eye view, today's Lawrence County Airpark
was Huntington's first commercial airport when it opened in 1929.
------------------------------------------------------------------------------------------------------
HUNTINGTON — In 1912, aviator Charles F. Walsh brought his Curtis biplane
to Huntington for an exhibition flight. The local newspapers had long heralded
his visit and so Walsh drew quite a crowd, eager to pay 50 cents (25 cents
for kids) to gawk at him and his strange contraption. "Shucks, there's
no way that thing can fly," some said. Walsh soon proved them
wrong. On May 22, he took off from League Park, an old ball
field in the city's West End, circled a while and then
landed. The next day he did it all over again.
When Walsh made his 1912 flight, airplanes were still a novelty,
but it didn't take long for them to become commercially viable.
Taking note of that fact, the Huntington Chamber of Commerce
formed its first aviation committee in 1922. Initially, the
Chamber focused its efforts on developing an airport at
Kyle Field on West Virginia Route 2 north of Huntington.
But, as things turned out, Huntington's first commercial
airport wasn't in West Virginia. It was in Ohio.
In 1929, the Cincinnati-based Embry-Riddle Co. put up $100,000
for construction of an airport in Chesapeake, Ohio. Another
$75,000 in funding for the new airport was contributed by
the Huntington Chamber of Commerce, the Huntington
Bridge Co. (which owned the nearby Ohio River
bridge linking Huntington and Chesapeake)
and a local aviation boosters club.
An estimated 45,000 people attended the grand weekend
opening of the Chesapeake airport in August 1929. The
airport served general aviation and operated a flight
school. Still in business, it's today known as
the Lawrence County Airpark.
Repeated efforts to attract an airline finally resulted in American
Airlines beginning service at the Chesapeake airport in 1938,
but the service wasn't long-lived. In 1945, citing an
inadequate runway for its fully loaded DC-3s,
American stopped serving the airport.
The Chamber and others long had been arguing that a much larger
airport was needed. The Chamber's aviation committee
determined that a Wayne County hilltop about 10 miles
west of Huntington was the most feasible site. Land
was purchased, construction began and Tri-State
Airport was dedicated in 1952.
-----------------------------------------------------------
Note: This Article and picture appeared in the Herald-Dispatch Newspaper on Feb. 25, 2020.
-----------------------------------------------------------
[ Back ]