Huntington Hospital
------------------------------------------------------------------------------------------------------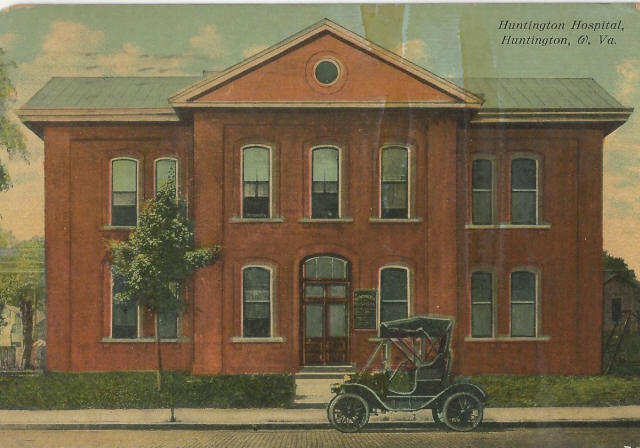 This postcard view of the Huntington Hospital at 720 4th. Ave. was mailed in 1914.
------------------------------------------------------------------------------------------------------
HUNTINGTON -- When the new community of Huntington was founded in 1871, one of the
first acts by the newly elected City Council was to direct that two schools be erected.
Two sites were chosen. One was in the city's East End, on 1st Avenue between 25th and 26th streets.
The other was downtown, on 4th Avenue between 7th and 8th streets. There was some delay
regarding the East End school, but a two-story brick school building was
built at 720 4th Ave. and deemed ready for use on Nov. 12, 1872.
The 4th Avenue school served students every year for 25 years, until 1897 when the
nearby Buffington School was built and the 4th Avenue building was abandoned.
City Council and the Huntington Medical Society long had been working to open a hospital
in the growing city, and they immediately recommended that the Board of Education
make available the abandoned school as the site for a hospital.
Finally, after much delay, the school board turned the building over to the city and the city in turn
leased it to the Huntington Hospital Association, which was organized by some of the city's
leading businessmen. The association equipped the building for hospital use and
secured an adjoining building as a nurses' home. The new
hospital welcomed its first patients in 1902.
The expense of operating the hospital proved to be greater than the income and it was soon in
financial difficulties. A women's auxiliary was formed and helped raise money for the
hospital. Ultimately the men in the association turned the hospital over to the
auxiliary members to run, which they did until 1910, when the
Huntington General Hospital was chartered
by a group of the city's doctors.
Exactly how long the 4tth Avenue hospital building remained in use is unclear.
But the 1917 edition of the Huntington City Directory lists what it calls
the "New Huntington General Hospital" at 1619 6th Ave.
-----------------------------------------------------------
Note: This Article and picture appeared in the Herald-Dispatch Newspaper on May 26, 2014.
-----------------------------------------------------------
[ Back ]