Huntington Orthopedic Hospital
------------------------------------------------------------------------------------------------------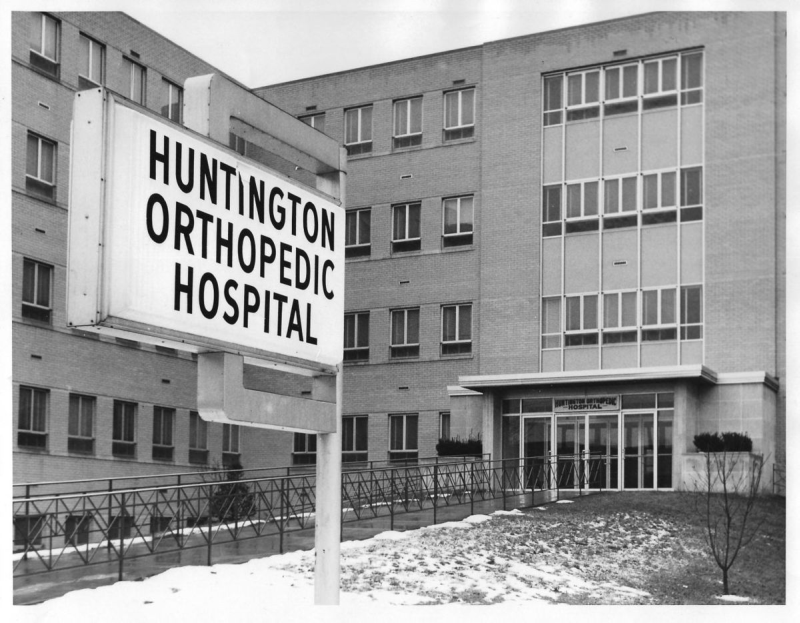 Today's River Park Hospital was previously knows as Huntington Orthopedic Hospital which was
founded in 1923. This photo shows the hospital as it looked in 1968.
------------------------------------------------------------------------------------------------------
HUNTINGTON -- In 1923, Dr. Arthur S. Jones founded what was then called the Huntington Children's Hospital
in a former residence at 1049 5th Ave. In 1929, he renamed his medical facility the Huntington Orthopedic Hospital
and moved it to a home at 1330 3rd Ave. that had been built by Ely Ensign, the founder
of Ensign Manufacturing (today's ACF Industries).
After Ensign's death in 1902, the 3rd Avenue house had been occupied by William F. Hite and his wife,
Anna, who was Ensign's daughter. Newspaper stories reporting Jones' purchase
of the house referred to it as the "Hite mansion."
In 1948, Jones moved his hospital yet again when he purchased one of the city's largest homes.
Constructed in 1918 by C. Paul Nelson on the northwest corner of 6th Avenue and 13th Street,
the four-story house included a third-floor ballroom, a dumbwaiter that connected
all four floors and even an indoor swimming pool.
In the era before the advent of the Salk vaccine, Huntington Orthopedic Hospital became widely
known for its care and treatment of polio victims. At the dedication of a modern 1959 addition to the old hospital,
Jones said it had treated more than 25,000 cases "not of polio alone but of every type of orthopedic malfunction."
With polio virtually eradicated, Huntington Orthopedic ultimately got a new name, the Huntington Hospital,
and a new mission as it shifted its focus to become a 174-bed medical-surgical facility. The hospital in 1988
took on yet another new name - River Park Hospital - and mission as it closed its medical services
and converted to a psychiatric hospital.
Today, River Park is a 165-bed facility that provides behavioral health services to children,
adolescents, adults and seniors in both inpatient and residential settings.
-----------------------------------------------------------
Note: This Article and picture appeared in the Herald-Dispatch Newspaper on Apr. 29 , 2016
-----------------------------------------------------------
[ Back ]