Huntington Dry Goods
------------------------------------------------------------------------------------------------------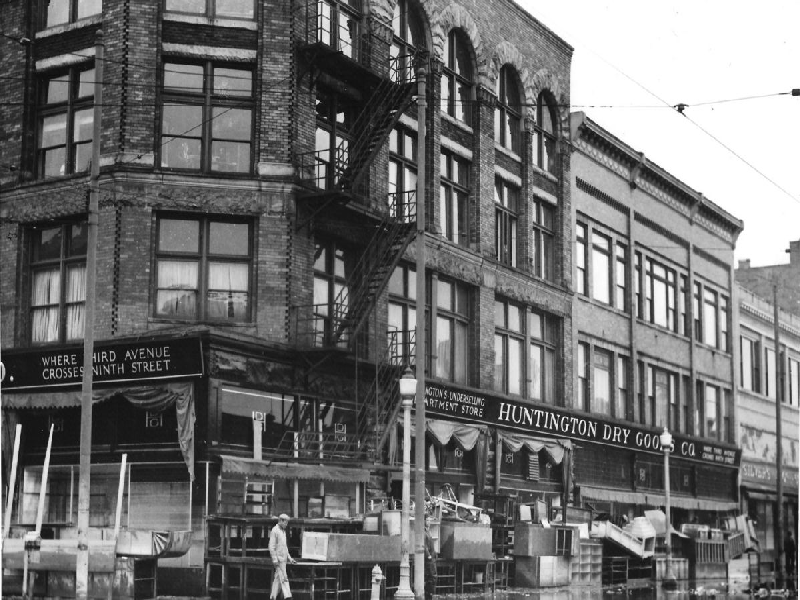 Workers clean up at Huntington Dry Goods Co. after the devastating 1937 Ohio River flood.
------------------------------------------------------------------------------------------------------
HUNTINGTON -- In 1871, the year of the city's birth, Bradley W. Foster came to Huntington and built a two-story
wooden hardware store on the southwest corner of 3rd Avenue and 9th Street. In 1894, he replaced the
wooden structure with a three-story brick and stone building. Foster's original retail store ultimately
evolved into the Foster-Thornburg Hardware Co., a major wholesale firm.
Foster died in 1922. Following his death, Walter Lewis Sr. purchased the 3rd Avenue building,
completely renovating it and expanding it into the adjacent Third Avenue Hotel. In 1923,
he leased the building to Meyer Mittenthal and M.J. Federman, who established the
Huntington Dry Goods Co., which would become one of the city's best-known stores.
The store initially sold ready to wear and domestics and later added furniture. In 1944, it leased the former
Deardorf -Sisler Department Store on 9th Street behind the Carnegie Library
and moved its furniture department to the new location.
In 1955, the store changed its name to the Huntington Store, reflecting that it had expanded far beyond
selling just dry goods. The building also underwent a major remodeling, which included covering its
exterior with large brown marble panels. (The panels have since been removed,
returning the structure to its original appearance.)
The Huntington Store closed its doors in 1982, with its management conceding that the venerable retailer
was unable to compete with the stores at the newly opened Huntington Mall at Barboursville.
After the store closed, the building's first floor was briefly home to an antique mall and then Brubaker's, a brew pub.
Today, it houses the Marshall Hall of Fame Caf, a popular restaurant with a Marshall sports theme. The Huntington
office of the U.S. Social Security Administration is located upstairs, accessed via an entrance lobby on 9th Street.
-----------------------------------------------------------
Note: This Article and picture appeared in the Herald-Dispatch Newspaper on Jul. 27 , 2015
-----------------------------------------------------------
[ Back ]