Imperial Lanes
------------------------------------------------------------------------------------------------------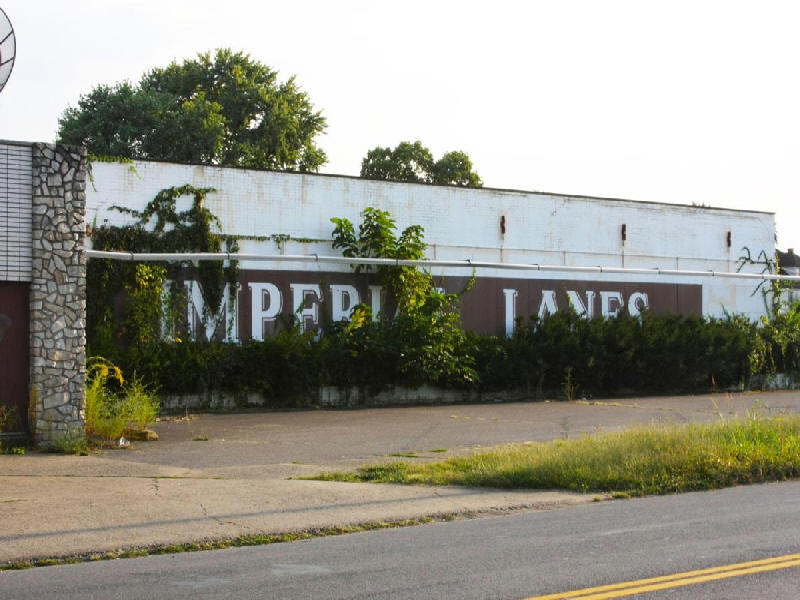 Imperial Lanes closed in 2005 and the building sat vacant for years.
becoming a neighborhood eyesore.
------------------------------------------------------------------------------------------------------
HUNTINGTON — Newspaper ads on the summer weekend of July 13-14, 1963,
offered lots for entertainment-minded Tri-State residents to do.
The Keith-Albee was showing the Jerry Lewis film "The Nutty Professor,"
while the Palace was screening "Bye Bye Birdie."
If you wanted to load up the car and head for a drive-in theater, you had
your choice of five - the East, Ceredo, Tri-State, Burlington and
Starlite. And Club Roll-A-Rama was welcoming skating fans.
But a full-page ad heralded the grand opening of something
new Imperial Lanes, a modern 24-lane bowling center.
Several houses on the south side of the 2100 block of 8th Avenue were demolished to make
way for the new business. A groundbreaking ceremony was conducted Nov. 14, 1962,
with Mayor George Garner turning the first shovel of dirt. When completed,
the building included a snack bar, nursery, billiard center, offices
and pro shop, with parking for more than 200 cars.
Imperial Lanes Inc. was headed by Ted Kleumper as president. The corporation's
other officers included Bob Glick, vice president; Jennings Riffe, secretary;
and John Marnell, treasurer. Well-known local bowling brothers Ted
and Ed Haun first owned Ted and Ed's Pro Bowl before
taking over at Imperial Lanes.
Imperial Lanes closed in 2005, and the building sat vacant
for years, becoming a neighborhood eyesore.
In 2008, a proposal was offered to tear down the building
and build 550 to 600 storage units.
City council narrowly passed the zoning change needed for the project.
But Mayor David Felinton, citing the strong objections of
neighborhood residents, vetoed the decision.
Later, a youth leader from River Cities Community Church
unsuccessful pitched the idea of turning the building
into a youth center and skate park.
In 2010, two Kentucky businessmen, Brett Setzer of Lexington and
William M. Arvin of Nicholasville, purchased the property,
demolished the building and built a Family Dollar store.
-----------------------------------------------------------
Note: This Article and picture appeared in the Herald-Dispatch Newspaper on Oct. 8, 2018
-----------------------------------------------------------
[ Back ]