Island Creek Coal Tipple
------------------------------------------------------------------------------------------------------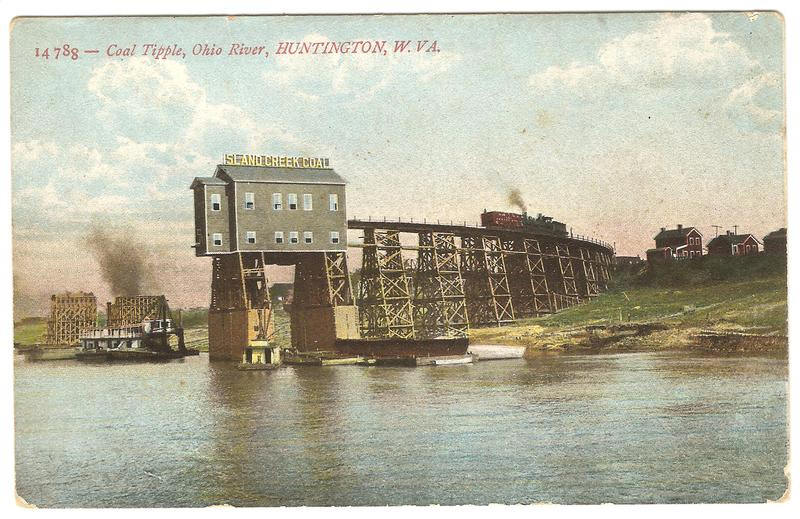 ------------------------------------------------------------------------------------------------------
HUNTINGTON -- For decades, the Huntington coal-loading tipple built by Island Creek Coal Company was the last stop
for the long trainloads of coal dug from the company's mines in Logan and Mingo counties in southern West Virginia.
Huntington lawyer Z.T. Vinson and other local investors founded the predecessor of Island Creek Coal.
Vinson and his partners sold their firm to U.S. Coal & Oil Company, which soon changed its name to Island Creek Coal.
Island Creek would go on to become one of the key players in the West Virginia coal industry.
Old photographs show the company's Huntington tipple, located on the Ohio River at the east end of today's Harris Riverfront Park,
was a strange-looking sort of place. A locomotive pushed railcars loaded with coal onto a wooden trestle that extended far out
from the riverbank and over the water. The trestle's tracks led to a two-story house-like structure that rested on concrete piers
sunk deep in the riverbed. Empty barges then would be shoved between the piers and the
coal dumped into the waiting barges from "the house" above.
Along the peak of the roof a large sign, visible for miles, proclaimed "Island Creek Coal."
Strange-looking it may have been, but in 1907, its first year of operation, the tipple handled 329,461
tons of coal and over the years it would load countless millions of tons. In 1925 the old tipple
was dismantled and replaced with one of more modern design.
It, too, is now long gone from the riverbank.

-----------------------------------------------------------
Note: This Article and picture appeared in the Herald-Dispatch Newspaper on Jan.. 26, 2014
-----------------------------------------------------------
[ Back ]