James J. Weiler & Sons
------------------------------------------------------------------------------------------------------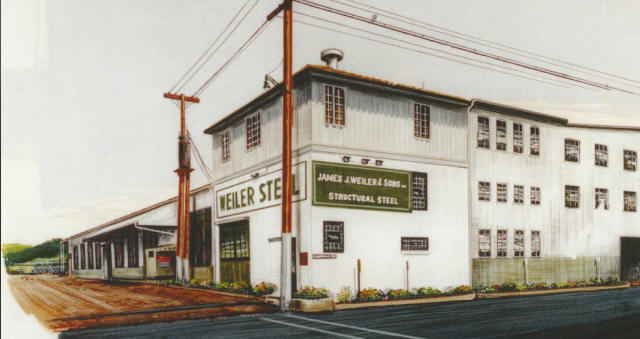 ------------------------------------------------------------------------------------------------------
HUNTINGTON -- In the early 1900s, James J. Weiler was a chief estimator for L. Schreiber & Sons Co.,
a Cincinnati, Ohio, steel fabricating firm. Many of the early buildings along downtown Huntington's
3rd Avenue were constructed with steel produced by Schrieber
and no doubt sold to the builders by Weiler.
The steel salesman must have liked what he saw in the Huntington of that era for in 1916
he moved his family here. In 1919 he and his sons purchased a tract of land at
Elm Street and Commerce Avenue and opened an iron yard. In 1924, work was
completed on a plant which would fabricate structural steel and ornamental iron.
For many years, James J. Weiler was the president of James J. Weiler & Sons,
with his sons filling other executive posts. In 1933, he died and his son
Francis Xavier Weiler, who had been the firm's vice
president and treasurer, became president.
With the coming of World War II, the company threw itself into war production.
With the war's end in 1945, the firm went back into commercial steel fabrication
for building and industrial purposes throughout the Tri-State area.
Francis Weiler, who at age 85 still ran the steel mill his father had founded,
died in 1980 and was succeeded as the firm's president by James J. Weiler II.
In 2005, Marshall University purchased the 2.5-acre Weiler Steel property, and before
it fell to the wrecking ball it would play a role in the "We Are Marshall" movie.
As the film's screenwriter Jamie Linden explains: "A few weeks before
production, McG (the movie's director) came back to Huntington,
visited the steel mill and fell in love with it," so the
screenplay was hastily revised to include it.
Shortly thereafter, the site of the once-busy steel mill became part of the MU engineering school complex.
-----------------------------------------------------------
Note: This Article and picture appeared in the Herald-Dispatch Newspaper on Jab. 30, 2017.
-----------------------------------------------------------
[ Back ]