Keen Jewelers
------------------------------------------------------------------------------------------------------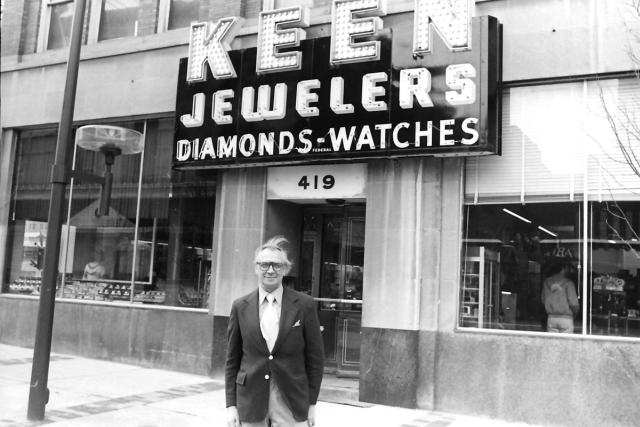 ------------------------------------------------------------------------------------------------------
HUNTINGTON -- Born in Cincinnati in 1914, Leonard Keen served in the U.S. Navy and
during the Great Depression worked for the federal Works Progress Administration (WPA).
In 1957, Keen and his wife Betty Ann moved from Louisville to Huntington and decided to open
a jewelry store. Keen Jewelers would be a fixture in downtown Huntington for the next 50 years.
"My wife was a native of Huntington," he later explained. "So during a visit to her parents,
we decided that Huntington would be a good place to open a store."
On April 16, 1958, Mayor Harold Frankel helped the Keens cut
the ribbon at their new store, which was located at 322 9th St.
Exactly 20 years later, on April 16, 1978, after urban renewal forced the jewelry store to
relocate, Frankel again did the honors, helping Keen cut the ribbon at a new location
- 419 9th St., the former home of Huntington Trust & Savings Bank.
Showing off the new store, Keen noted that the bank's old vault provided a
perfect place to store valuables such a diamonds, watches and fine jewelry.
In a 1983 newspaper interview, as the business celebrated its 25th anniversary,
Keen described the jewelry store as "my livelihood, my hobby, my everything.
" Loyal customers, he said, had kept the store going in lean years as well as good times.
"We are still here, which is proof there is business to be found in Huntington."
Keen Jewelers continued in business for nearly another 25 years, until it finally
closed in 2007. Leonard Keen was 94 years old when he died in 2009.
-----------------------------------------------------------
Note: This Article and picture appeared in the Herald-Dispatch Newspaper on June 27 , 2016
-----------------------------------------------------------
[ Back ]