Kennedy Dairy
------------------------------------------------------------------------------------------------------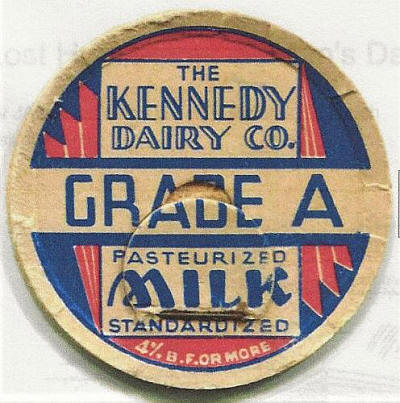 The Kennedy Dairy Co. was formed by Wallace Kennedy in 1930
when he bought out the former Blue Ribbon Dairy Co.
Courtesy of James E. Casto
------------------------------------------------------------------------------------------------------
HUNTINGTON — Over the years, the Huntington area has
been home to a number of dairies — Guyan Creamery,
Spring Hill, Tinsley's, Blatt's and others.
One of the community's largest and best-known dairies
was the Kennedy Dairy Co, formed by Wallace
Kennedy in 1930 when he bought out the
former Blue Ribbon Dairy Co.
Originally, the Kennedy Dairy was located at 8th Avenue
and 14th Street but as its business grew that building
proved inadequate. So in 1937 the company built
a large brick building on the southwest corner
of 8th Avenue and 12th Street. There it
employed 65 people in its
plant and offices.
The Borden Co. acquired the Kennedy Dairy in
1941 and went on to operate at the former
Kennedy location for more than 50 years.
In the 1960s, Borden's Huntington plant processed and
bottled milk from more than 170 dairy farms in the
region. It also manufactured ice cream, which
was distributed and sold throughout southern
West Virginia. In 1970, the company halted
all manufacturing at the building and after
that used it solely as a distribution
center for products that
were trucked in.
In 1985, Borden demolished the old Kennedy Dairy
building, saying it was "economically beyond
repair." But the company stayed on in the
neighborhood, moving to a new building
it had constructed next door. Ultimately,
Borden moved out and was replaced
for a few years by Broughton Dairy.
Today, all traces of the three dairy firms — Kennedy,
Borden and Broughton — have been erased and
their former corner location is the site of an
Appalachian Power Co. substation.
-----------------------------------------------------------
Note: This Article and picture appeared in the Herald-Dispatch Newspaper on Feb. 15, 2022.
-----------------------------------------------------------
[ Back ]