Kessler's Brass Foundry
------------------------------------------------------------------------------------------------------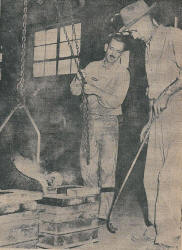 Kesslerís Brass Foundry cast 400,000 pounds of brass,
bronze, aluminum and other metals a year. Pouring
molten metal took a steady hand.
------------------------------------------------------------------------------------------------------
HUNTINGTON ó The art of brass and bronze founding is an
exacting one, requiring painstaking skill and care.
A native of Roanoke, Virginia, William P. Kessler spent nearly 40
years doing foundry work in plants throughout the eastern part of
the United States. In 1952, when he decided to go into business
for himself, he moved to Huntington and opened Kesslerís
Brass Foundry at the Duling Industrial Center
at West 16th Street and Virginia Avenue.
The following year the business moved into a larger
space at the center and was incorporated.
The foundryís workers first cast melted metal into ingots. Then they produced
a desired part by melting down the ingots and pouring the molten metal into
wooden molds that were carefully constructed in various sizes and shapes.
After the parts had cooled and were removed from their molds, they
went to the plantís machine shop where lathes were used to finish
the pieces to exacting tolerances. Finally, the pieces were sand-
blasted or polished and inspected before they
were shipped to their customers.
The foundry cast 400,000 pounds of brass, bronze, aluminum and
other metals a year, shipping its products to customers in West
Virginia, Kentucky, Ohio, Illinois, Indiana and other states.
The coal mining industry in southern West Virginia and
eastern Kentucky was a major user of Kesslerís products.
The company carried a large stock of semi-finished brass and bronze
in sizes commonly used in industry and was able to furnish custom-
made tubular or bar stock and brass, bronze and aluminum
castings to a customerís specifications.
According to records in the West Virginia Secretary of Stateís Office,
Kesslerís Brass Foundry went out of business in 1984.
-----------------------------------------------------------
Note: This Article and picture appeared in the Herald-Dispatch Newspaper on March 2, 2021.
-----------------------------------------------------------
[ Back ]