Lewis-Wilson Hardware
------------------------------------------------------------------------------------------------------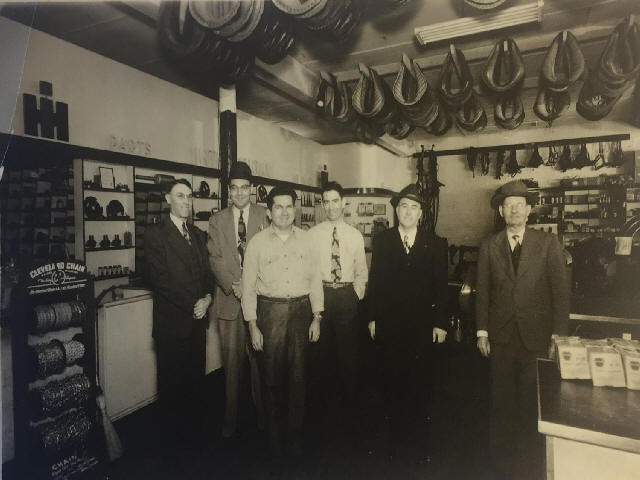 1953 photo, owners and managers pose at Lewis-Wilson Hardware. From left,
pictured are Harry Anderson "Bud" Wilson Jr., Charles Rickette Gwinn,
unidentified repair shop manager, unidentified parts department
manager, J.M. Lewis and Madison Jack Wilson.
------------------------------------------------------------------------------------------------------
HUNTINGTON — The Lewis-Wilson Hardware & Farm Machinery Co.,
long located at 732 3rd Ave., was a distributor for International Harvester
Corp. tractors and sold many other pieces of farm equipment.
A Certified International Harvester repair and parts shop, the business
employed more than a dozen people, including office staff, salesmen,
shop mechanics and the parts department manager. The disassembled
tractors would arrive by rail, then were put together in the
shop and delivered by truck to the purchaser's farm.
The hardware section of the store sold seeds, tools, nails, chain, rope,
barb wire, Chief brand paints, shoes for horses, mules and oxen,
household goods and countless other items. It had an extensive
firearms department. And it was even a redemption center
for Wilson (no relation) Condensed Milk Co. coupons
which could be redeemed for merchandise.
Lewis-Wilson did a brisk business selling wooden barrels. The company
would hire day laborers from the City Market to unload the barrels
from boxcars at the Baltimore & Ohio freight station at
11th Street and then roll them down 2 ˝ alley to the
company's warehouse. Many of the barrels
were purchased by enterprising
moonshiners.
The company also owned and operated a 135-acre dairy farm
at Ona, on the James River & Kanawha Turnpike.
The store originally operated under the name J. M. Lewis Farm Machinery Co.
Later. John M. Lewis and Madison Jack Wilson jointly operated it as
Lewis-Wilson Hardware. In 1953, the ownership was transferred
to two nephews of the founders, Henry Anderson "Bud"
Wilson Jr. and Charles Rickette Gwinn.
Lewis-Wilson Hardware survived the great Ohio River flood of 1937,
but it couldn't survive Huntington's downtown urban renewal
project. "Bud" Wilson Jr. went on to establish the Wilson
Hardware Co. located on 3rd Avenue between 8th and
9th streets, operating it until his retirement in 1968.
-----------------------------------------------------------
Note: This Article and picture appeared in the Herald-Dispatch Newspaper on July 7, 2020.
-----------------------------------------------------------
[ Back ]