Lincoln Junior High School
------------------------------------------------------------------------------------------------------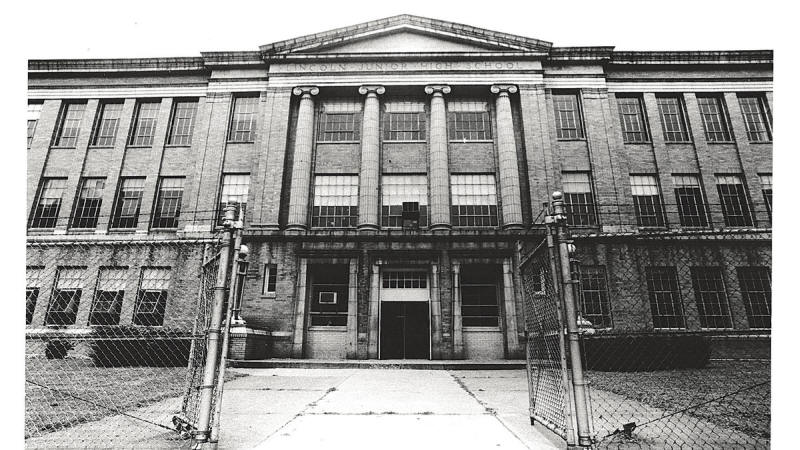 Opened in 1924, Lincoln Junior High School was closed in 1989.
------------------------------------------------------------------------------------------------------
HUNTINGTON — Lincoln Junior High School was built on the corner of 10th Avenue and 26th Street
in 1924 and served seventh-, eighth- and ninth-graders from its East Huntington neighborhood for the next 65 years.
The school was designed by the Huntington architectural firm of Frampton and Bowers,
the same architects who in 1938-1940 designed the East Wing of the
Cabell County Courthouse. The three-story school building cost $160,000 to construct.
In 1928, Principal O.E. Hodge supervised 27 teachers. In 1938, an addition
was constructed to accommodate what was then a growing enrollment.
Lincoln's enrollment peaked at nearly 600 students in 1960 and then steadily declined as
the neighborhood's makeup shifted from residential to a mix of residences and businesses.
In the 1979-80 school year, Lincoln had 410 students. A decade later, in 1988-89, its
enrollment had dwindled to 268 students. So the Cabell County Board of Education
decided to close Lincoln at the end of that school year and distribute its
students between Enslow, Beverly Hills and Cammack Junior Highs.
In a well-remembered high point for the school, the Lincoln Lions under coach
Jim Morgan won the Cabell County Junior High Football Championship in 1987.
In recent years, former students have staged an annual all-year Lincoln reunion.
"There's just something about being from Lincoln that keeps us all connected," said Kim Scarberry,
co-organizer of the 2016 reunion. "All of us will tell you our junior high school
years were the best and can't compare to our high school years."
Still standing, the former junior high is now home to the King of Glory Church.
-----------------------------------------------------------
Note: This Article and picture appeared in the Herald-Dispatch Newspaper on Nov. 7, 2016
-----------------------------------------------------------
[ Back ]