Little Switzerland Brewing
------------------------------------------------------------------------------------------------------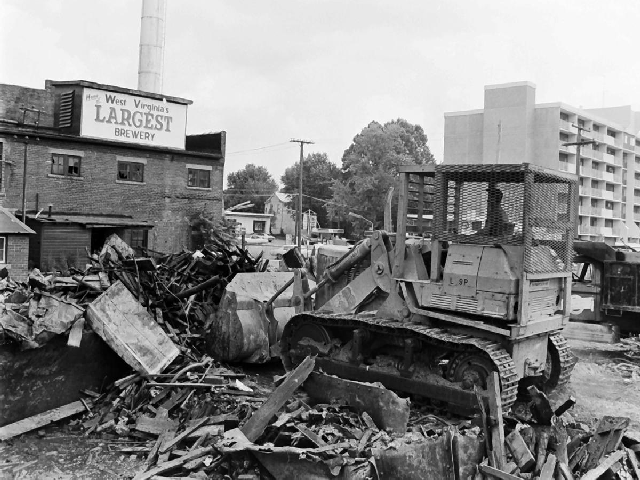 The former Fesenmeier brewery, once the state's largest, was demolished in 1972.
------------------------------------------------------------------------------------------------------
HUNTINGTON — For nearly 70 years, minus the Prohibition years
of course, the Fesenmeier family brewed beer at its brewery
on Madison Avenue at West 14th Street.
In 1899, the Fesenmeiers came from Maryland to what was then
Central City and purchased a defunct brewery that had been
built at Madison Avenue and West 14th Street in 1891.
They reopened it under the name West Virginia
Brewing Co. Soon the brewery was widely
known as the home of "West Virginia"
brand beer.
The brewery survived a disastrous fire in 1905 and the flood of 1913, but
it couldn't survive the state of West Virginia's enactment of Prohibition
in 1914, five years before the rest of the country. John J. Fesenmeier
converted the business into a meat-packing plant. When he died
in 1922, his brother Michael returned from Maryland and
converted the plant to an ice and ice cream business.
Sensing that Prohibition was soon to be lifted, the company took a
gamble, installed $300,000 worth of modern brewing equipment
and began brewing and stockpiling beer. On May 5, 1934, the
first day that beer could again be legally sold, the company
— now renamed the Fesenmeier Brewing Co. — had
250,000 gallons ready for the thirsty Huntington area.
For the next couple of decades the company thrived, but ultimately
the national beer brands like Budweiser and Miller, with their
multi-million-dollar advertising and marketing budgets,
squeezed small brewers like Fesenmeier out of business.
In 1968, the brewery was sold to a group of local investors
headed by Robert Holley of Huntington, who operated
it as the Little Switzerland Brewing Co.
Holley had grand plans for increasing the brewery's sales and
turning it into a tourist attraction. He even remodeled a portion
of its exterior to resemble a Swiss chalet and encouraged
public tours of the old brewery. He introduced two new
brands, Charge Premium Beer and Innkeeper Beer,
a lower-priced alternative. Sales of both
new brands proved unimpressive.
In 1971, the brewery closed its doors. A year later,
the block-long building was demolished to make
way for a shopping center parking lot.
-----------------------------------------------------------
Note: This Article and picture appeared in the Herald-Dispatch Newspaper on Oct. 15, 2019.
-----------------------------------------------------------
[ Back ]