Love Furniture
------------------------------------------------------------------------------------------------------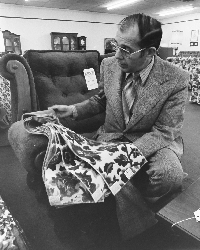 Interviewed at his new store, Love Furniture, in 1972,
Roger Gross displayed a few of the hundreds of
furniture fabrics available to his customers
------------------------------------------------------------------------------------------------------
HUNTINGTON -----Why would the owner of one of the city's best-known
dress shops suddenly announce he was closing out his stock of
clothing and instead opening a new furniture store?
In a 1972 interview with the Sunday Herald-Advertiser, Roger
Gross, the former owner and operator of Roger Gross Inc.,
said the reason was customer service.
Seated in his new store, Love Furniture at 2516 5th Ave.,
he explained: "Up until about two or three years ago,
I could do for my customers what I wanted to do.
If they wanted something special, I could get
what they wanted. I had to nearly break my
neck a few times, but I got it. I can't do
that anymore (in the dress business),
but I can here."
Housed in a building previously leased to Spot Lanes,
a bowling establishment that went of business, Love
Furniture was part of a nationwide chain of
stores affiliated with an Ohio company,
Norwalk Furniture, which built
custom-made furniture.
The store offered "a new concept in furniture marketing,
" Gross said. The store's customers could choose from
a wide variety of furniture styles, with upholstered
pieces available in literally hundreds of
different fabrics and colors.
Once a customer made a selection, an order was placed with
the Norwalk firm, with delivery guaranteed within 30 days.
"We don't mean 30 days, then another 30 days and so on,
" Gross said. "Then when their furniture is delivered,
customers have 10 days to decide if they are
pleased with it. If not, we will take the
item back, with no questions asked."
The store's decorators would also visit a customer's home,
taking fabric samples and photographs of furniture styles.
Love Furniture went out of business in 1981.
-----------------------------------------------------------
Note: This Article and picture appeared in the Herald-Dispatch Newspaper on Oct. 20, 2020.
-----------------------------------------------------------
[ Back ]