Mack & Dave's
------------------------------------------------------------------------------------------------------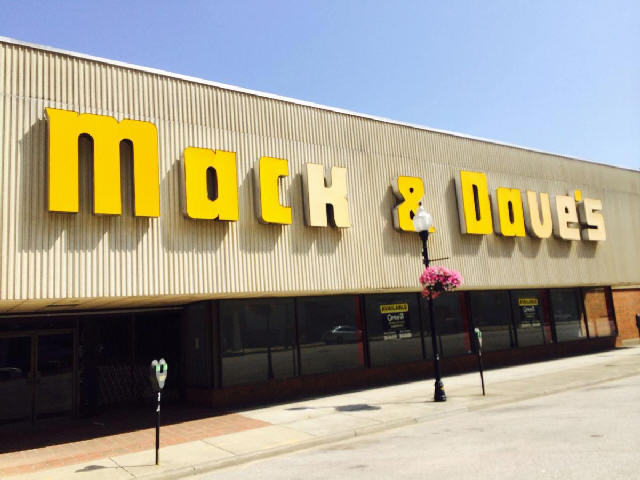 The former Mack & Dave's store occupies a nearly block-long building
at 1010 3rd Ave. in downtown Huntington.
------------------------------------------------------------------------------------------------------
HUNTINGTON-- Friends Mack Webb and Dave Cohen worked together at B&B Loan,
a downtown Huntington pawn shop. Cohen then went into the military,
serving in the U.S. Air Force. When he got back home, the
two men teamed up to open their own business.
That was in 1949.
The store the two friends opened would go on to be a fixture
in downtown Huntington for more than 60 years.
In its early years, Mack and Dave's was mostly a pawn shop. It would go
on to feature a mix of new merchandise and pre-owned items. Webb,
whose full name was James "Mack" McClung Webb, was the
diamond expert, while Cohen took care of
other aspects of the business.
Originally the store was located on the corner of 3rd Avenue and 9th Street. In 1974,
when Huntington's urban renewal project cleared a big portion of the city's
downtown, Mack & Dave's took a big step up when it built a nearly
block-long store in the 1000 block of 3rd Avenue.
Mack Webb died in 1992, but Cohen and his wife Marylin soldiered on.
Their 90,000-square-foot store carried a truly astounding variety
of items. If you happened to need a diamond necklace or a
leather sofa, a bicycle or a sewing machine, a new
TV set or a shotgun, you could get it there.
In November 2016, Dave and Marylin Cohen announced they would be
retiring and closing their store after 67 years. "When we look around
the store, it's hard - but it's time," said 92-year-old Dave Cohen.
In January 2017, the couple closed the doors of their store for the last time.
-----------------------------------------------------------
Note: This Article and picture appeared in the Herald-Dispatch Newspaper on Sep. 10, 2018
-----------------------------------------------------------
[ Back ]