Mansour's Market
------------------------------------------------------------------------------------------------------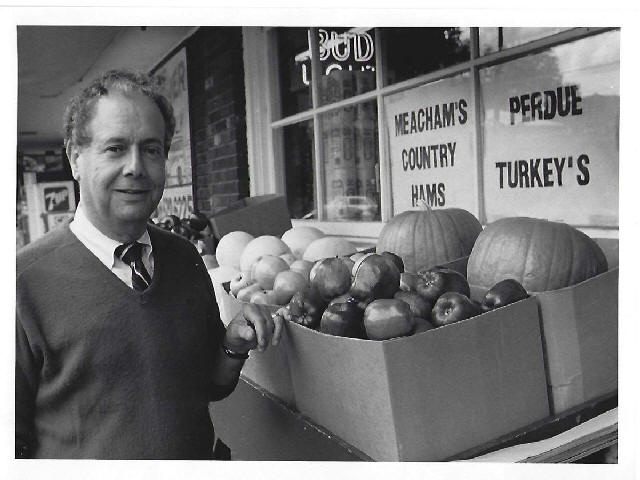 In a 1990 photograph, Mitch Mansour posed outside his popular
food market, long a Southside Huntington landmark.
------------------------------------------------------------------------------------------------------
HUNTINGTON -- Michael Lewis Mansour, known to family and friends as "Mitch,"
was born in Huntington in 1930, the son of the late Elia and Marie Yazbek Mansour.
A native of Lebanon, Elia Mansour came to this country in 1917, settling first in Connecticut.
He enlisted in the Army during World War I and after obtaining his discharge and
American citizenship, he joined a friend in the restaurant business in Charleston,
S.C. He then came to Huntington, first operating a restaurant on 8th Avenue
near the C&O Shops with another friend. After exiting the restaurant
business, he opened a series of small grocery stores.
As a youngster, Mitch Mansour would leave grade school and walk directly
to the family store, where he would work alongside his father. So it's
hardly surprising that he would go into the grocery business.
In 1963, he bought a small food market at the intersection of 10th Avenue
and 12th Street, renaming it Mansour's Market. The store would go on
to become a southside landmark, attracting a steady flow of customers,
not just from the neighborhood but from throughout the community.
The popular market was known for its deli, its catering
business and its free delivery service.
Over the years, Mansour invested in real estate, buying various properties,
One of his purchases was the former Tradewell supermarket building
on 8th Street across from Huntington High School. He briefly
considered moving his market to the much larger Tradewell
building but was convinced by many customers and
employees to leave the market in its original location.
"We enjoy, and our customers enjoy, the warmth and friendliness we have here," he said.
In 2001, husband and wife entrepreneurs Julian and Jihad Saad purchased the
business, later renaming it Julian's Market. Saad said Mansour told him he
had decided to sell because he wanted to retire and no one in
his family was interested in taking over the store.
Mitch Mansour died in 2011.
-----------------------------------------------------------
Note: This Article and picture appeared in the Herald-Dispatch Newspaper on June 3, 2019
.-----------------------------------------------------------
[ Back ]