Marshall Lab School
------------------------------------------------------------------------------------------------------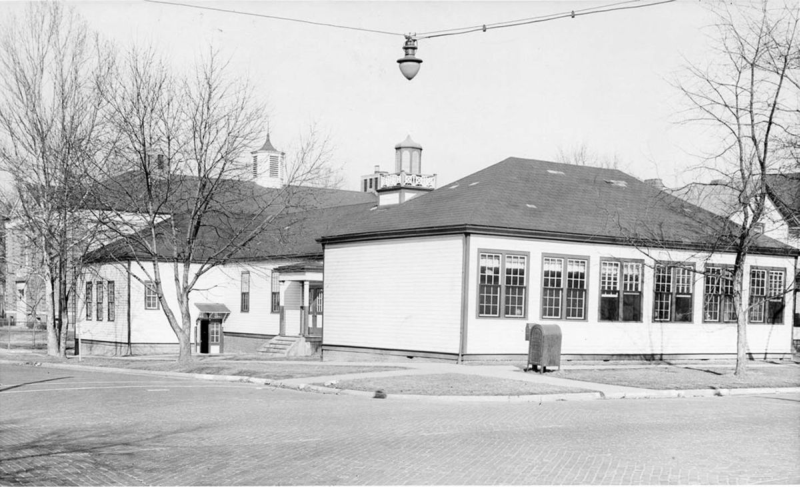 ------------------------------------------------------------------------------------------------------
The frame buildings in the forefront of this Circa 1950 photo were the Annex
to the Marshall Lab School. The Lab School's main building, Jenkins Hall,
can be seen in the background.
------------------------------------------------------------------------------------------------------
HUNTINGTON -- In 1896, teacher Mabel Brown assembled at Marshall College a fourth-grade
group of five boys and five girls. This was the modest beginning of the Marshall Lab School. For
more than 70 years, the Lab School would be an integral part of Marshall's teacher training program.
Over the years, the school steadily grew in size and scope, with new grades and courses added.
By 1908, all elementary grades were included. Later, junior high grades were added. In 1924,
three two-room frame buildings were built for the school and later a five-room building was erected.
But the Lab School truly came into its own in 1938 when it moved into a handsome $200,000
brick building built by the federal Works Program Administration (WPA) and named for famed
Confederate General Albert Gallatin Jenkins. The WPA, a New Deal program created to put unemployed
Americans back to work during the Great Depression, built three buildings at Marshall - two
dormitories (Hodges Hall and Laidley Hall) and Jenkins Hall.
The first floor of the two-story building had 10 classrooms used for a kindergarten and the six elementary
grades. The second floor housed a six-year high school (grades 7 through 12). The building included
a health clinic, an 80-seat music room and a library. The adjacent frame buildings erected in the
1920s became an Annex used for laboratories and physical education classes.
In 1970, as costs increased and student teaching moved from the campus to the public schools,
Marshall elected to close the Lab School. Jenkins Hall was then remodeled to house classrooms
and offices for the College of Education. The Lab School's old Annex was demolished.
-----------------------------------------------------------
Note: This Article and picture appeared in the Herald-Dispatch Newspaper on Aug. 10 , 2015
-----------------------------------------------------------
[ Back ]