Marshall Victory
------------------------------------------------------------------------------------------------------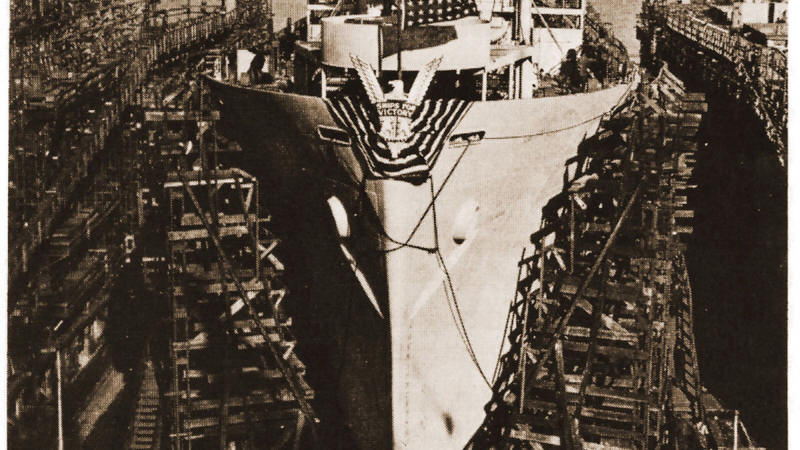 The S. S. Marshall Victory, a World War II cargo ship, was named fo Marshall College.
------------------------------------------------------------------------------------------------------
HUNTINGTON -- During World War II, the United States met the huge challenge of transporting men and
materials across the Atlantic and Pacific to the war fronts by building a fleet of more than 2,700 simple,
low-cost cargo vessels dubbed Liberty ships. Later, the Liberty ships were augmented
by a new class of vessel, the Victory ship.
Based on the Liberty design, the Victory ships were slightly larger and had more powerful
engines for better evading German submarines. A total of 531 Victory ships were built.
The first Victory ship constructed was named S.S. United Victory, and all subsequent vessels in the class
included the word "Victory" in their names. After United Victory, the next 34 vessels were named after
allied countries, the following 218 after American cities and the next 150 after U.S. colleges and universities,
Thus, when the S.S. Marshall Victory was launched at the Bethlehem-Fairfield Shipyard
in Baltimore on May 21, 1945, she was named for Marshall College.
The ship's sponsor, Helen Elsey of Huntington, a Marshall graduate, smashed the traditional bottle
of champagne over its bow, and Marshall President J.D. Williams pushed the button that
started the vessel down the ways. Among those looking on were the sponsor's parents,
Capt. and Mrs. Phil Elsey of Huntington.
During a launch-day luncheon, Viola Lipscomb, president of the Marshall student body, announced the
presentation by the students of a library for the ship's crew. Others in the launch-day official party
included Huntington Mayor Paul O. Fiedler, Dean Otis G. Wilson of the Marshall teachers college
and Rep. Herbert S. Ellis, R-W.Va.
In 1950, the Marshall Victory was renamed for Army Lt. Raymond O. Beaudoin, who had been
posthumously awarded the Medal of Honor for his heroism on the frontline in Germany.
The renamed vessel was retired from the Navy in 1962.
-----------------------------------------------------------
Note: This Article and picture appeared in the Herald-Dispatch Newspaper on Oct. 31, 2016
-----------------------------------------------------------
[ Back ]