Marshall's Green Village
------------------------------------------------------------------------------------------------------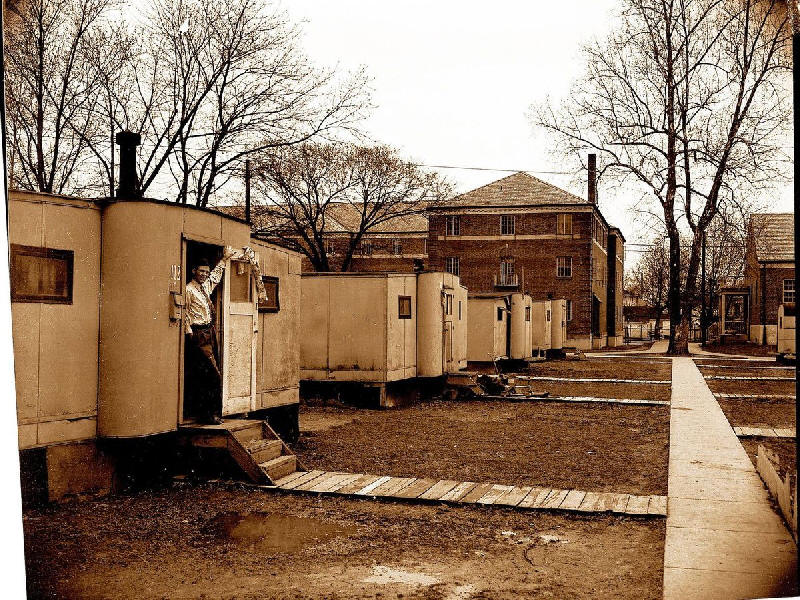 Marshall University Library Military surplus house trailers were used to
house some of the returning veterans who crowded the Marshall
campus following World War II.
------------------------------------------------------------------------------------------------------
HUNTINGTON -- With the end of World War II in 1945, enrollment at Marshall College exploded
as returning veterans flocked to the campus, using their education benefits under the federal GI Bill.
Members of the faculty found the returning veterans to be far more mature and studious than pre-war
Marshall students. Little interested in the frills of campus life, they were intent on earning their
degrees as quickly as possible and getting on with their lives. Many graduated in three years,
more than justifying the government's investment in their education.
But the surge in post-war enrollment created a tremendous student housing shortage, made even
more critical by the fact that many of the returning vets were married, meaning they had to find
housing not just for themselves but also for their families. One result was that numerous
campus area garages and other structures were turned into makeshift rental apartments.
But that still left hundreds of vets without housing.
Marshall appealed to the federal government for help, and the Federal Housing Administration responded
by sending war surplus pre-fabricated military housing that was erected on
Donald Court in the city's Enslow Park neighborhood.
The government also sent Marshall dozens of house trailers for use as student housing. Set up on the intramural
field adjacent to the Lab School at the eastern end of the campus, the trailer complex was dubbed
Green Village. The name was a great deal prettier than the ugly-looking trailers themselves.
Like the Donald Court units, the trailers were military surplus.
The enrollment boom also left Marshall woefully short of classrooms. Again, Uncle Sam stepped in
to help. A former U.S. Navy barracks in Norfolk, Va., was dismantled, shipped to Huntington and
reassembled next to Old Main. When it was erected in 1947, the former barracks officially
known as Old Main Annex was described as a "temporary" structure. In fact, it would be
used for classes for the next 20 years, until the construction of Smith Hall in 1967.
-----------------------------------------------------------
Note: This Article and picture appeared in the Herald-Dispatch Newspaper on Nov. 02 , 2014
-----------------------------------------------------------
[ Back ]