McColm Granite Company
------------------------------------------------------------------------------------------------------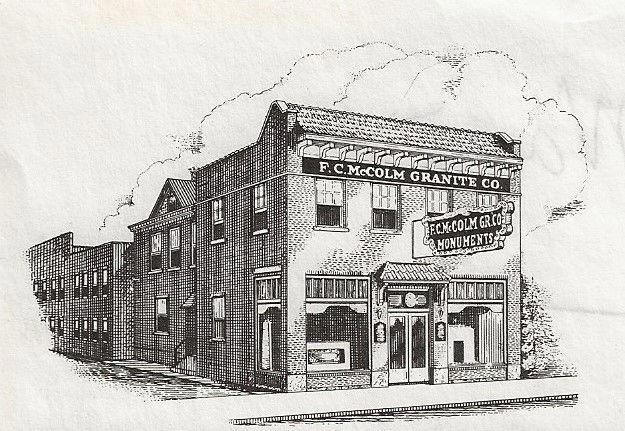 The F.C. McColm Granite Company's distinctive office building at
1214 3rd Ave., was long a downtown Huntington landmark.
Sketch courtesy James E. Casto
------------------------------------------------------------------------------------------------------
HUNTINGTON — Frank C. McColm was born in Muscatine, Iowa, in 1863.
He received his earliest education in the schools of Adams County, Ohio,
where his parents moved when he was a young boy. He later attended
school in Manchester, Ohio, where at age 16 he served an
apprenticeship as a marble cutter. Two years later,
he started his own monuments company.
After more than 20 years in business, he decided to move his firm — the
F.C. McColm Granite Company — to a city that was bigger than
Manchester, one where there would be a greater demand for
his creations. And so in 1905 he moved to Huntington,
where he invested $25,000 to construct a modern
monument plant at 135 20th St., just a stone's
throw from the Ohio River.
Later, the company moved again, this time to 1214 3rd Ave.,
where McColm built a distinctive office building
that was long a downtown landmark.
When F.C. McColm died in 1934, he was succeeded as the company's
president by his son Harry L. McColm. When he died in 1951,
his son, Harry L. McColm Jr. became the firm's president.
In 1974, the Sears Monument Co., West Virginia's largest monument
company with multiple locations around the state, purchased the
F.C. McColm Granite Company. Today, the McColm Sears
Monument Company continues to operate at 1221 4th Ave.
-----------------------------------------------------------
Note: This Article and picture appeared in the Herald-Dispatch Newspaper on Mar. 15, 2022.
-----------------------------------------------------------
[ Back ]