Mel Gillispie Orchestra
------------------------------------------------------------------------------------------------------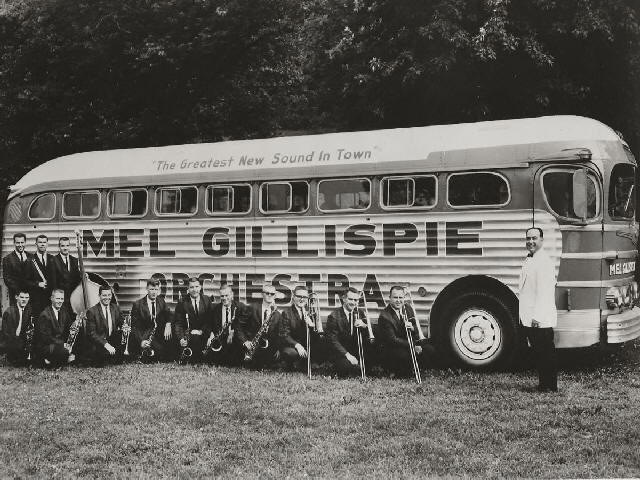 ------------------------------------------------------------------------------------------------------
HUNTINGTON — Mel Gillispie was "Mr. Music" in Huntington from the
1960s until his death in 2004.
A Huntington native, Gillispie attended West Junior High and Huntington High School
and was a music major at Marshall College (now University). When he graduated
from Marshall, he headed straight for New York City, where he earned
a master's degree in music at Columbia University.
Returning home, he briefly taught music at Hamlin High and later at Fort Gay High
— and set about organizing the Mel Gillispie Orchestra.
Gillispie loved the big-band sound of Glenn Miller and Tommy Dorsey,
and that's the sound his orchestra offered its listeners.
The orchestra played its first engagement in 1960 and went on to become perhaps
the best known musical aggregation in the region. Gillispie bought a used
Greyhound bus that took him and his 16-piece band far and wide —
to every state east of the Mississippi — until the gasoline crisis
of the 1970s forced him to park the big bus and later sell it.
Closer to home, he ran the jazz program and instructed in woodwinds for 25
years at West Virginia State College in Institute. He ran a contracting
business in which he supplied local musicians for traveling
programs such as "Holiday on Ice." And for 14 years he
staged free jazz concerts in the amphitheater at Ritter
Park. The first such concert in 1960 drew an
enthusiastic audience of 3,000 listeners. Later
editions of the annual concerts drew
even larger crowds of fans.
"Swing is the most exciting type of music," Gillespie said in a 1981
interview with The Herald-Dispatch. "To look out over a crowd
of 6,000 people and see them dancing to my music
— that's really a thrill for me."
-----------------------------------------------------------
Note: This Article and picture appeared in the Herald-Dispatch Newspaper on Dec. 10, 2019
-----------------------------------------------------------
[ Back ]