Memorial Field House
------------------------------------------------------------------------------------------------------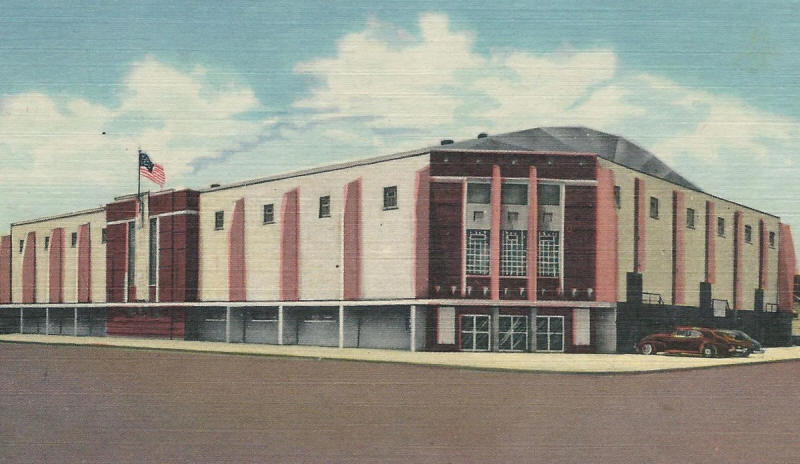 The Veterans Memorial Field House was built in 1950 and demolished in 2012.
------------------------------------------------------------------------------------------------------
HUNTINGTON -- Built in 1950 in a burst of post-World War II civic pride and optimism,
Veterans Memorial Field House staggered from one fiscal crisis to another for most of its 60-plus years.
The genesis of the Field House can be traced to 1945, when the West Virginia Legislature established the
Cabell County Recreation Board. Initially the board was charged with supervising various county playgrounds.
But Chairman Max Jones and his fellow board members had something far bigger in mind. Determined to give
the city a first-class arena, they convinced the Cabell County Court (now Commission) to hire an architect.
Then, the following year, the county issued $830,000 in bonds to finance the building's construction.
When a strike sent the price of steel soaring, the county had to issue a second bond issue of $175,000.
The arena opened Nov. 13, 1950, when "Holiday on Ice" began a four-day engagement. On Nov. 30,
the arena was officially named Memorial Field House and dedicated to the war dead of Huntington and
Cabell County. Thus the Field House seemed off to a great start. But there was big trouble ahead.
When it came time to start repaying the bond issues, the revenue stream from Field House events wasn't
nearly enough to cover the payments, so the city and county had to come to the building's rescue.
Even after the voters approved a tax levy to pay off the bonds, the Field House still operated in the red.
Over the years, it always seemed just one step ahead of bankruptcy.
The county was more than happy to turn the money-losing Field House over to the Cabell County Board of Education
in 1986, and the school system was similarly relieved when it passed the troubled building along
to the Greater Huntington Park and Recreation District a decade later.
In 2011, the park district, faced with shelling out more than $1 million for a new roof, eagerly turned
it over to Marshall University, which demolished it to make way for a new soccer complex.
-----------------------------------------------------------
Note: This Article and picture appeared in the Herald-Dispatch Newspaper on Jan. 11, 2016
-----------------------------------------------------------
[ Back ]