Michael's Restaurat
------------------------------------------------------------------------------------------------------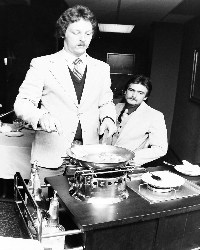 In a 1980 photo, Michael Bunting, owner-operator of Michaelís Restaurant,
is shown preparing one of the tableside dishes featured at his
fancy new restaurant. One of the restaurantís
33 employees, Jack Irwin, looks on.
------------------------------------------------------------------------------------------------------
HUNTINGTON ó Interviewed by The Herald-Dispatch shortly after the 1980
opening of Michaelís, his fancy new restaurant, chef Michael Bunting
described it as a place for people ďwho take a meal seriously.Ē
ďPeople come to enjoy the food for the foodís sake,Ē Bunting
said, adding that it wasnít unusual for diners to
linger for hours over their meal.
Michaelís was located at 1045 4th Ave., in a building that once housed the
J.L. Cook Hardware Co. An extensive remodeling erased any trace of the
former hardware store. The menu featured French-American cuisine.
Unlike other area restaurants, Michaelís featured table-side cooking,
in which the chef prepared many of the dishes right at the table.
The restaurantís flaming desserts were enormously popular.
At a time when many other restaurants were offering band
music, Michaelís opted instead for a pianist who quietly
performed light classical pieces and show
tunes from 6 to 11 p.m. each evening.
Buntingís background in gourmet cooking began when he attended the
two-year program at the Culinary Institute of America at Hyde
Park, N.Y. Before opening his restaurant, he was the executive
chef at the Guyan Golf & Country Club for two years and
was program coordinator for food service management
at Marshall University. During that time, he also
started a catering business,
Gourmet Catering Inc.
Though itís long gone, Buntingís restaurant is well remembered by
many who enjoyed dining there. After it closed, Glennís Sporting
Goods and radio station The Dawg, both located in the Coal
Exchange Building next door, expanded into
the restaurantís former space.
-----------------------------------------------------------
Note: This Article and picture appeared in the Herald-Dispatch Newspaper on Nov. 3, 2020.
-----------------------------------------------------------
[ Back ]