Miller School
------------------------------------------------------------------------------------------------------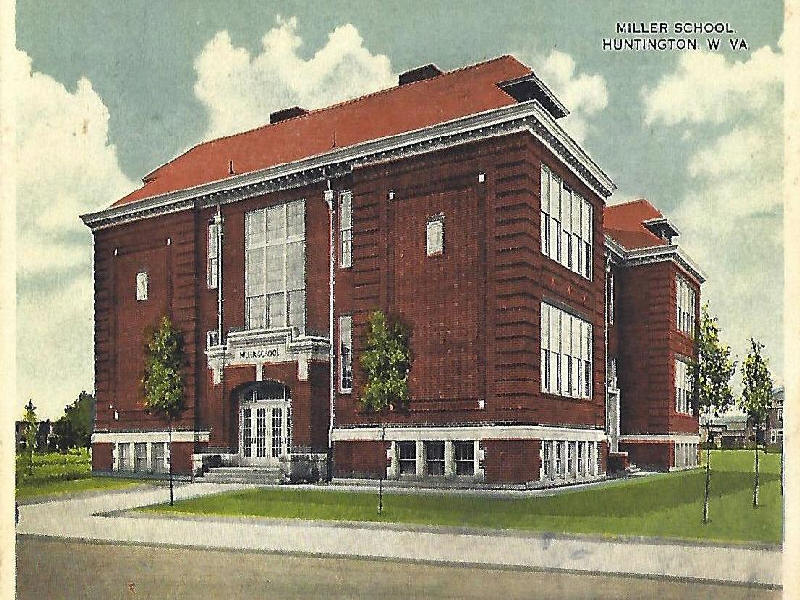 Built in 1915, Miller School was closed in 2010 and later demolished.
Today, the former school site is the home to a small park.
------------------------------------------------------------------------------------------------------
HUNTINGTON — Miller School, built in 1915, was long a landmark in its Southside
neighborhood. It welcomed generations of elementary students until 2010, when
it was closed and later demolished. Today, a small park stands at the
former school site at 12th Avenue and 7th Street.
In 2007, students at Miller and Cammack elementary schools were
consolidated into a new school — named Southside Elementary.
In the 1980-81 school year, Miller had more than 400 students, but like many other
Cabell County schools its re-enrollment steadily declined over time. In the last
year before the consolidation, 2005-06, Miller had only 146 students.
The former Miller and Cammack students were housed in the Miller building while
renovation work was done at the former Cammack building, which had been
designated to be the home of the new Southside school. After that work
was done, the students were moved and the former Miller
building sat vacant until it was demolished.
In 2013, Huntington businessman Jim St. Clair and his son, Sam St. Clair, provided
$100,000 for the Greater Huntington Park and Recreation District to purchase
the former school property from the Board of Education. At the same time,
another city business leader, Sterling Hall, chaired a $30,000
fundraising effort to purchase materials needed to
transform the property into a small park.
A grassy area surrounded by trees, Miller Park stands as a welcome
oasis of green space in the residential neighborhood. In 2015,
Southside Elementary students helped plant 30
apple and peach trees at the park.
-----------------------------------------------------------
Note: This Article and picture appeared in the Herald-Dispatch Newspaper on June 18, 2018.
-----------------------------------------------------------
[ Back ]