Ming's Restaurant
------------------------------------------------------------------------------------------------------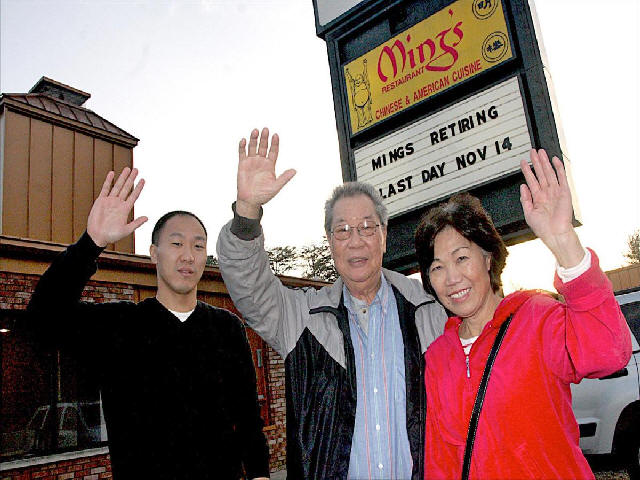 Ming Eng and his wife, Lisa, closed the doors of their popular Huntington restaurant
for the last time. Here, they posed with their son Ben, offering a goodbye
wave to their loyal customers. Ben grew up helping his parents at the
restaurant. Today, he's an assistant professor of marketing
and entrepreneurship at Marshall University
------------------------------------------------------------------------------------------------------
HUNTINGTON -- As a teenager, Ming Eng made his way from his native China to Hong Kong
and then to Toronto, Canada, where he worked as a busboy and waiter. Within 10 years he
was the head chef at a Toronto restaurant, and it was there that Huntington's
Harold Frankel, owner of the Route 60 Holiday Inn, found him.
It took some doing, but Frankel managed to convince Eng to come to
Huntington to be the chef at the Ma-KiKi Club, a Polynesian-style
bar and restaurant at his motel. That was in 1969.
Later, Eng would open his own restaurant, Ming's, taking over the former
Elephant Walk, a private club at the Hotel Frederick. The room offered
all manner of fanciful elephant touches - colorful paintings, a
carpet with elephant footprints, bar stools fashioned to
look like elephantfeet and a colorful mural of dancing
elephants. But it was the delicious food, not the
fancy dcor, that drew patrons to Ming's
and kept them coming back.
For the next 30 years. Ming held forth in the kitchen, and his wife Lisa
managed things out front. Thus, it truly seemed like the end of an
era when Ming's closed at the Frederick, but Eng wasn't ready
to call it quits just yet. He would put in another decade at a
new location at the Stone Lodge motel on U.S. 60 East.
But in November 2009, the big sign outside the restaurant spelled out
the bad news - Ming's was closing, this time for good. People
flocked to the restaurant those last few days - so many that
they ran out of food and had to turn people away. After
working 15 hours a day for 40 years, Eng said he was
looking forward to taking a vacation - his first ever.
-----------------------------------------------------------
Note: This Article and picture appeared in the Herald-Dispatch Newspaper on May 20, 2019.
-----------------------------------------------------------
[ Back ]