Miss USA Pageant
------------------------------------------------------------------------------------------------------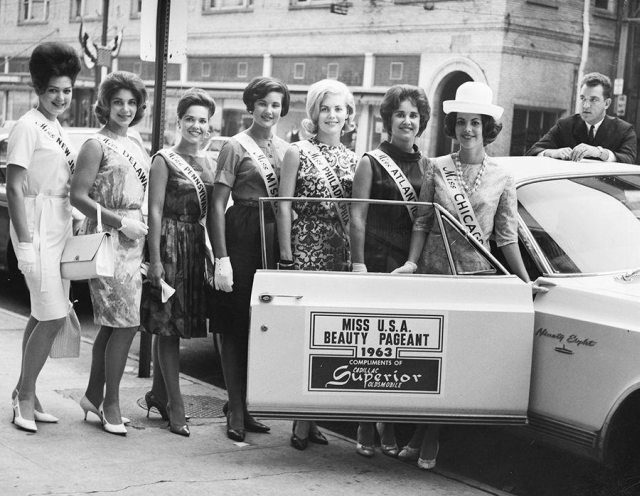 A group of contestants in Huntington's 1963 Miss USA Pageant pose with
one of the event's official cars, "compliments of Superior Oldsmobile."
------------------------------------------------------------------------------------------------------
HUNTINGTON — National beauty pageants generally take place in big cities
or resort towns. But, as unlikely as it might seem, the 1963 Miss USA Pageant
was held in Huntington. It was then followed by two more annual pageants here.
Two individuals primarily made that unlikely event happen —
Huntington's JoAnn Odum, the previous winner of the Miss
USA title, and Huntington businessman Keith Black.
The pageant's directors were greatly impressed by Odum and so, after she won
the title, they offered Huntington the franchise for the next year's pageant.
The city turned down the offer, but Odum refused to take that refusal as
final. She reached out to Black, who seemed to know everybody
who was anybody in Huntington. He immediately set to work,
drumming up support for the pageant. He then flew to meet
with pageant officials and came home with the franchise.
The pageant headquarters was established at the then-new UpTowner Inn,
located in the 1400 block of 4th Avenue (now a vacant lot), and
Black took charge as the event's executive director.
And in mid-August, 44 young women who were contestants from throughout
the nation arrived in town for a fun-filled week of activities, including
three dances, a Marshall University football game, a golf
tournament, a river cruise and more, including a trip to
Charleston to have tea with Gov. and Mrs. Barron.
On the morning of the pageant's last day — Saturday, Sept. 22 —
the contestants traveled down 4th Avenue in a parade that
included 85 cars, 10 high school bands, six floats,
the pageant judges, a batch of antique autos and
assorted local dignitaries. An estimated
20,000 people crowded the sidewalks.
That night the long-awaited pageant judging began at Memorial
Field House at 8:45 p.m. — and didn't end until 12:20 a.m.
Sunday. The winner: Miss California, Amedee Chabot.
-----------------------------------------------------------
Note: This Article and picture appeared in the Herald-Dispatch Newspaper on Nov. 24, 2020.
-----------------------------------------------------------
[ Back ]