Model Furniture
------------------------------------------------------------------------------------------------------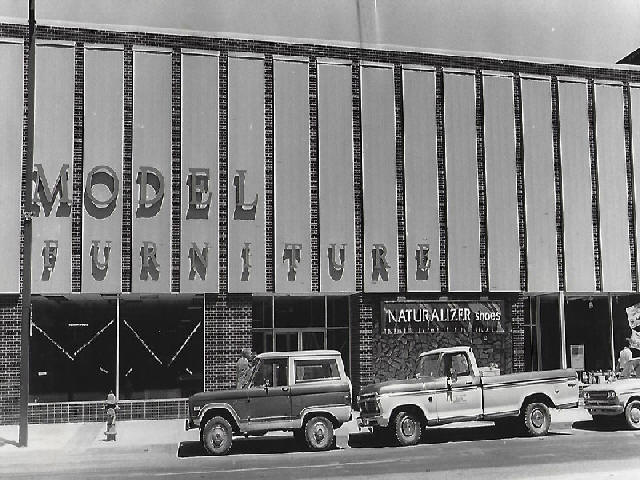 When the Huntington Urban Renewal Authority acquired and demolished the long-time
3rd. Avenue home of Model Furniture Co., the Kaplan family built a new $500,000
building at 836 4th. Ave. Today, the building houses the offices
of MCA - Medical Claims Assistance.
------------------------------------------------------------------------------------------------------
HUNTINGTON -- Born in 1905 in Cincinnati, Ohio, Theodore Kaplan came to Huntington when he was
in his 20s, and, in 1932, opened a store - the Model Furniture Co. - at 828 3rd Ave. Kaplan - known
as "Ted" to family, friends and countless loyal customers - ran the store there for more
than 40 years, assisted by his wife Julia, who took care of the office.
In 1975, the Huntington Urban Renewal Authority served notice on the Kaplans that
their 3rd Avenue building had been earmarked as one of the many structures
to be acquired and demolished as part of the city's
downtown urban renewal program.
The Kaplans could have retired. Instead, they elected to relocate. They built a new building
at 836 4th Ave., the site of the former Tipton Theater, destroyed by fire in 1950. Kaplan
told the Huntington Advertiser the new two-story building cost more than $500,000
to erect. When it opened in 1977, the building also housed Naturalizer Shoes,
described by manager John Beane as the only exclusively
Naturalizer store in West Virginia.
The Kaplans were members of B'Nai Shalom Congregation. He was a member
of Huntington BPO Elks Lodge 313, the Huntington Retail Furniture
Association and the Huntington Regional Chamber of Commerce.
Ultimately the Kaplans' two sons, Norton and Samuel, joined the family business.
Ted Kaplan died in 1991. His widow and sons continued to operate the
store until the early 2000s. Since 2003, the building has housed
the offices of MCA - Medical Claims Assistance.
-----------------------------------------------------------
Note: This Article and picture appeared in the Herald-Dispatch Newspaper on Nov. 20, 2017
-----------------------------------------------------------
[ Back ]