Moore & Sons Hardware
------------------------------------------------------------------------------------------------------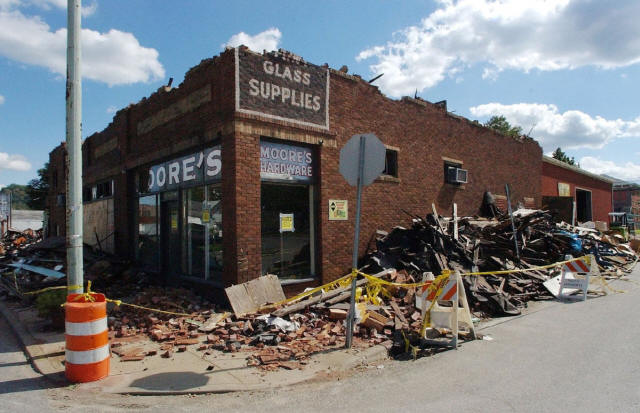 A fire destroyed Elza C. Moore & Sons Hardware, a fixture in the
Guyandotte neighborhood since the 1940's.
------------------------------------------------------------------------------------------------------
HUNTINGTON -- The Guyandotte neighborhood lost a big piece of its history in 2003
when fire destroyed Elza C. Moore & Sons Hardware.
Before opening his own shop, Moore worked for 20 years for C.M. Love & Co. in downtown Huntington
and operated his own wire fabrication business. In 1947, he bought M.E. Blake's hardware store on
Guyandotte's Bridge Street and put his name on it. Later, he took over the grocery building next door.
Over the years, Moore's store became part of the fabric of life in Guyandotte.
He stayed on the job well into his 90s, assisted by his sons Spencer and Richard.
"I will be here as long as I am physically and mentally able of being here," he told a newspaper
reporter on his 83rd birthday in 1988. "I have no intention of retiring because, to me,
this is retirement. I don't care about sports or traveling; this is what I love to do."
But after the 2003 fire, he retired and sold Moore's to long-time employees Gordon Wheeler
and his son, Dan. The Wheelers built a new building for the store but were unable
to make a go of it and closed it in 2015.
When the store closed, Spencer Moore noted that competition from the big-box stores had virtually wiped out small,
family-owned hardware stores such as Moore's. "A few years ago, there were three hardware stores in Guyandotte,
two in Proctorville, Ohio, and one in Chesapeake, Ohio. Now there are none, none and none."
-----------------------------------------------------------
Note: This Article and picture appeared in the Herald-Dispatch Newspaper on July 25, 2016
-----------------------------------------------------------
[ Back ]