Mootz Bakery
------------------------------------------------------------------------------------------------------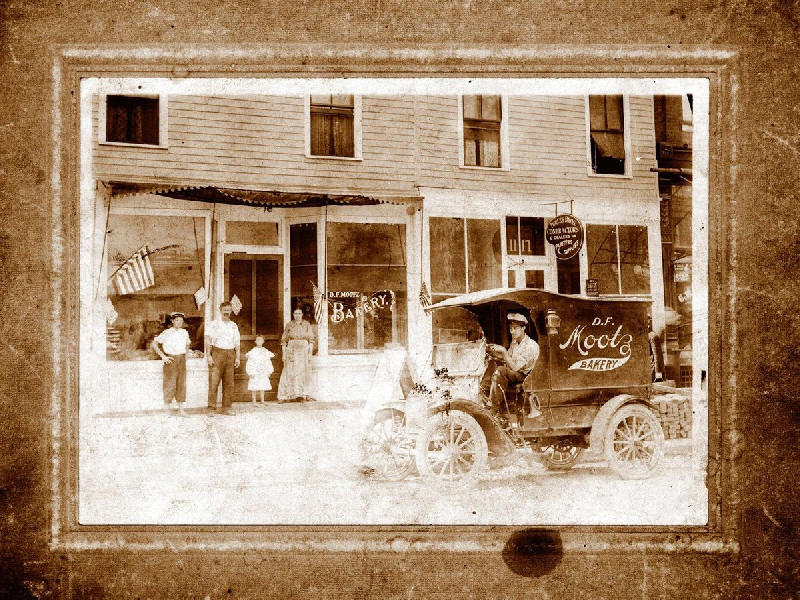 The Mootz delivery truck, a uniformed driver at the wheel, can be seen parked
in front of the baker at 1933 3 rd. Ave.
------------------------------------------------------------------------------------------------------
HUNTINGTON -- As a teenager, E.W. Mootz worked as an apprentice at the former Schneider Bakery on lower
3rd Avenue in downtown Huntington. In 1905, in partnership with his father, Frederick Mootz, he opened
his own bakery at 1933 3rd Ave. He later bought out his father, to become the bakery's sole owner.
Mootz started delivering bread with a horse-drawn wagon and later purchased the first delivery truck owned in Huntington.
Over the years, the bakery steadily grew and in 1933 purchased a building on the southwest corner
of 5th Avenue and 20th Street that previously had been occupied by Carter's Ford Motor Sales.
The bakery began as a two-man shop and ultimately grew to 120 employees.
It operated a fleet of trucks that distributed wholesale bread and rolls to retail grocers
within a 100-mile radius in West Virginia, Ohio and Kentucky.
Beginning in the 1940s, Mootz Bakery marketed its bread under the Sunbeam brand,
as a member of the Quality Bakers of America Cooperative Inc.
The co-op's trademark, a blonde-haired, blue-eyed little girl named "Miss Sunbeam," could be seen
on every loaf of bread and was prominently displayed in most of the Mootz advertisements.
Many bakeries across the nation still sell their bread under the Sunbeam brand.
E.W. Mootz retired in 1964 and was succeeded as the bakery's president by his son,
E.W. Mootz Jr. The elder Mootz died in 1966.
In 1965, Mootz Bakery merged with Schaefer's Bakery of Springfield, Ohio, a subsidiary of
Baking Enterprises, Inc. The Huntington bakery initially continued in operation but soon was closed.
In 1969, the Mootz building was purchased by Stationer's Inc., an office supply company that
operated there until earlier this year when it moved to a new location on West Virginia Route 2.
The 20th Street building has since been demolished to make way for a new pharmacy.
-----------------------------------------------------------
Note: This Article and picture appeared in the Herald-Dispatch Newspaper on Jun. 15 , 2015
-----------------------------------------------------------
[ Back ]