Mott Core Drilling
------------------------------------------------------------------------------------------------------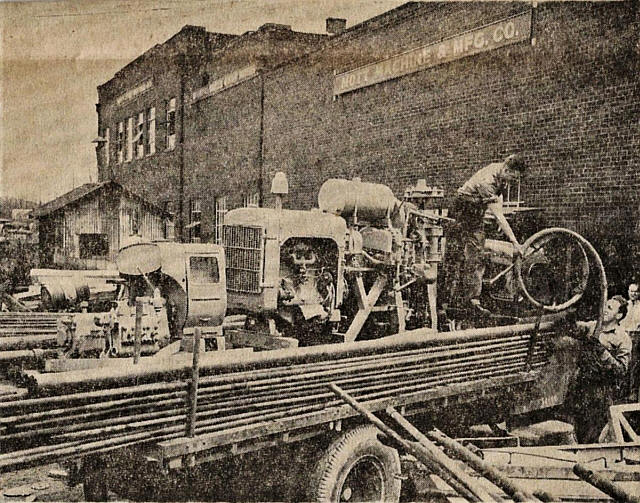 Mott Core Drilling workers make ready a drilling rig for trucking to a work site.

File photo | The Herald-Dispatch
------------------------------------------------------------------------------------------------------
HUNTINGTON — For more than 50 years, expert crews from the
Mott Core Drilling Co. peered under the ground and told the
mining and construction industries what was there.
Mott Core Drilling began its work in West Virginia but over
the years worked at sites throughout the United States
as well as in Canada and Mexico.
The company was founded by three brothers. B.H. Mott was
president, and his two brothers, Blair A. and W.J. Mott,
were vice presidents. The brothers were natives of
Punxsutawney, Pennsylvania, where they
learned the core drilling business
from the ground down.
In 1917, the brothers established their own core drilling business
in Beckley, W.Va., in the heart of the state's underground
coal fields. In 1932, the brothers moved the business to
Huntington, where they located in the 800 block of
8th Avenue. In 1936, they built a large two-story
brick building that today houses the headquarters
of Cabell County Emergency Medical Services.
At its peak, Mott Core Drilling employed as many as
200 workers, of whom more than 100 were skilled
technicians trained by its specialists in the
exploration and analysis of
underground strata.
In the 1950s, the nation urgently needed to find new
sources of uranium for use in adding to its stock
of nuclear weapons. Responding to that need,
the company conducted extensive core
drilling in a number of western states.
According to records in the West Virginia Secretary
of State's office, Mott Core Drilling went
out of business in 1969.
-----------------------------------------------------------
Note: This Article and picture appeared in the Herald-Dispatch Newspaper on Aug. 9, 2022..
-----------------------------------------------------------
[ Back ]