Mount Hope Hospital
------------------------------------------------------------------------------------------------------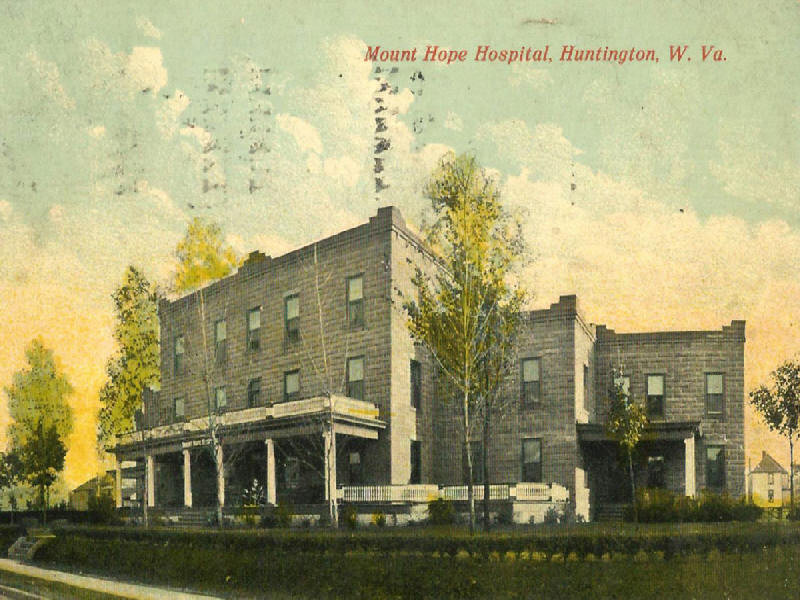 This postcard view of Huntington's Mount Hospital was mailed in 1914.
------------------------------------------------------------------------------------------------------
HUNTINGTON — In 1904, Dr. Archibald Kenton Kessler, who was operating a private hospital at
Clarksburg, West Virginia, decided to come to Huntington to build a second institution.
The result was the Kessler Hospital and Sanitarium, a stone building
which he built on the southwest corner of 4th Avenue and 5th Street.
In a 1907 advertisement, Kessler boasted that his hospital was "the largest in the state," with accommodations
for 150 patients, an "experienced medical staff" and a "full corps of trained nurses." The ad promised patients
"comfortable rooms, wards, parlors and corridors" and cited rates of "$7 and up per week" for ward beds
and "$12 per week and up" for private rooms. The hospital, the ad said, "was prepared to give all
kinds of electrical treatment" and had a "complete system of medical baths."
In addition to his hospital and sanitarium, Kessler also started
a school of nursing. In 1907, the school graduated 14 new nurses.
Shortly thereafter, Kessler sold his hospital to Dr. Robert E. Vickers, who renamed it
Mount Hope Hospital. (In 1911, Kessler opened a new, larger hospital at 6th Avenue and 1st Street.
The new Kessler Hospital became the Kessler-Hatfield Hospital in 1917 when
Dr. Henry Hatfield finished his term as governor and joined the hospital.
Later re-named Huntington Memorial Hospital, it continued in operation until 1958).
A native of Malden in Kanawha County, Vickers graduated from the University of Maryland and
interned at Bellevue Hospital in New York. Marrying Victoria Thornburg of Huntington in 1890,
he moved to Huntington to take up the practice of medicine in the city. In addition to his medical
responsibilities, he was active in the Huntington business community and was a
leading member of the local Republican Party. He died in 1924.
-----------------------------------------------------------
Note: This Article and picture appeared in the Herald-Dispatch Newspaper on Jan. 05 , 2015
-----------------------------------------------------------
[ Back ]