Myers Transfer
------------------------------------------------------------------------------------------------------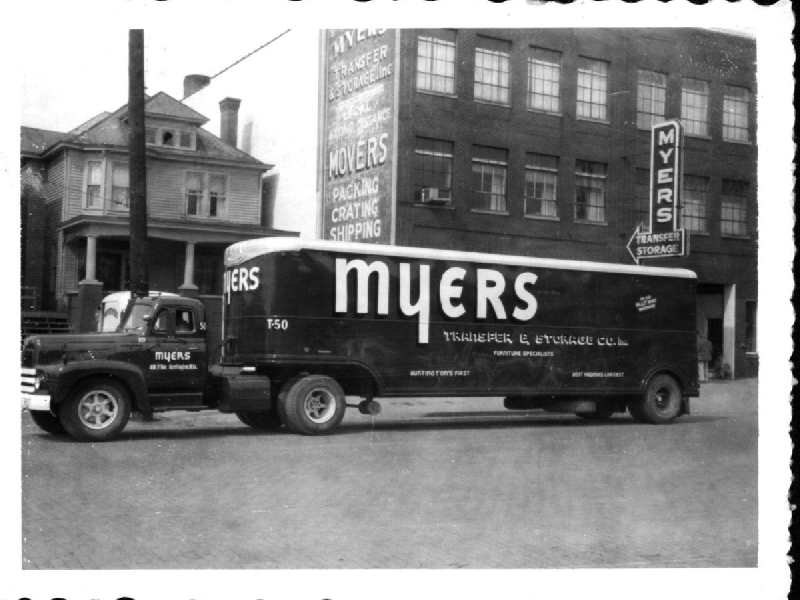 The big letters on the side of the trailer clearly identify this Myers Transfer &
Storage truck, posed in front of the company's offices and warehouse at
418 3rd. Ave.
------------------------------------------------------------------------------------------------------
HUNTINGTON -- In 1913, Charles Denver Myers and his wife Cora moved from Gallia County, Ohio,
to Huntington. Myers worked six months for a local mover, and then quit to start his own moving company.
"We made $3 a load," Cora Myers recalled in a 1983 interview with The Herald-Dispatch.
Founded in January 1914, Myers Transfer & Storage Co. was a familiar part
of the business scene in the Huntington area for more than 70 years.
James M. Myers was three years old when his father started the business. In 1934,
when he was 24 years old, he bought the company from his father. In 1950,
James Myers and his son, Bob, became partners and opened a Charleston branch.
The moving company's first office and warehouse was at
20th Street and Artisan Avenue. Later it moved to 418 3rd Ave.
The company acquired its first truck in 1918 and had five trucks on the road when James Myers
took over from his father. At the peak of its business, it operated a fleet of more than 40 trucks,
serving 17 states in the Eastern United States. It held a franchise with United Van Lines for 30 years.
In an interview, Bob Myers said the steadily growing popularity of rental trucks and
self-storage units combined to rob the moving industry of most of it residential business.
"We continued for a few years doing primarily commercial work," Myers said. "We had a contract with
AT&T to deliver telephone equipment all over southern West Virginia. Some of it was as big as a small house.
Today, technology has miniaturized such equipment so much you could probably send it in a Fed Ex package."
Ultimately, Myers Transfer closed its doors in the mid-1980s.
-----------------------------------------------------------
Note: This Article and picture appeared in the Herald-Dispatch Newspaper on Jun. 22 , 2015
-----------------------------------------------------------
[ Back ]