National Mattress
------------------------------------------------------------------------------------------------------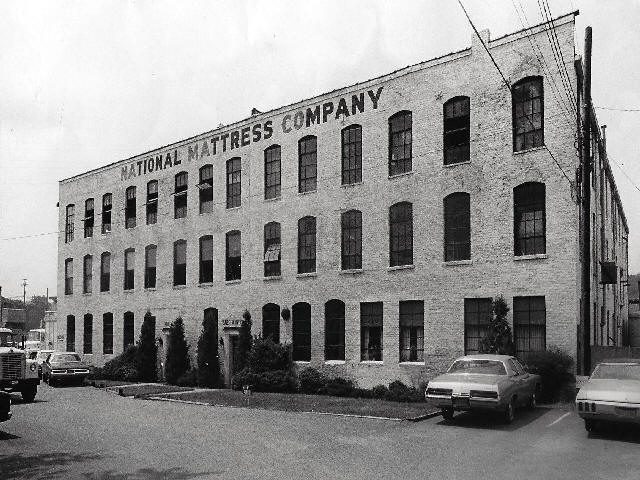 For many years, the main plant and offices of the National Mattress Co.
(NAMACO) were located at 21st Street and 2nd Avenue.
------------------------------------------------------------------------------------------------------
HUNTINGTON — The National Mattress Company — known as NAMACO —
began in 1905 in a single room located above a Huntington livery stable.
By the 1950s, it was operating four manufacturing plants in Huntington
and six others in various cities elsewhere in the nation. It
would open even more plants in the years after that.
Three of NAMACO's local plants were located in adjoining buildings on
Jackson Avenue west of West 14th Street. One of three fashioned
specially treated and tempered wire into coiled bed springs.
A woodworking plant made wooden frames for box
springs and parts that a third plant used in crafting
couches, sofa beds, chairs and other products.
The company's home plant, located at 21st Street and 2nd Avenue,
used the materials from the Jackson Avenue factories to
manufacture mattresses and box springs
that were sold nationwide.
C. Fred Edwards, who started out in life as a $6-a-week
furniture store clerk, founded NAMACO. His son,
James F. Edwards, followed in his father's
footsteps as the company's president.
In 1982, the younger Edwards moved the NAMACO offices
from the plant building at 21st Street to a historic downtown
building at 422 9th St., built in 1915 to house the former
Deardorff-Sisler department store.
When James Edwards died in 1991, his will called for multimillion-dollar
bequests to a number of community projects. His widow not only
carried out those bequests but went on to donate millions more
of her own money. Overall, James and Joan Edwards
donated more than $65 million to Marshall University
and various projects in the Huntington community.
NAMACO was last listed in the Huntington City Directory in 1999.
-----------------------------------------------------------
Note: This Article and picture appeared in the Herald-Dispatch Newspaper on June 2, 2020
-----------------------------------------------------------
[ Back ]