Neighborhood Theaters
------------------------------------------------------------------------------------------------------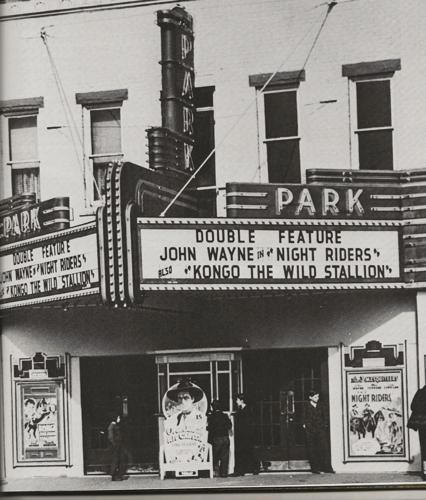 The Park Theatre opened at 2018 3rd Ave. in the mid-1930s and
closed in the mid-1950s when the building was converted to retail use.

File photo | The Herald-Dispatch
------------------------------------------------------------------------------------------------------
HUNTINGTON — While not as large or as glamorous as Huntington's downtown
movie theaters, the city had a number of neighborhood theaters — places where
kids could while away a Saturday afternoon watching cartoons and cowboy
flicks or a teenage boy could take his best gal. All are long gone,
done in by television and drive-in theaters.
The Park Theatre opened at 2018 3rd Ave. in the mid-1930s and
closed in the mid-1950s when the building was converted
to retail use. Over the decades since, it's housed a
number of different businesses. Today it's home
to Terra Leaf, a recently opened
cannabis dispensary.
Constructed at 420 West 14th St. in 1938, the Abbott Theater
was named for Darwin E. Abbott, a prominent photographer
who operated a nearby photo studio and frame factory. It
closed in 1951 and in 1952 was leased to Huntington
Community Players, who renovated the building for
their stage productions. Unable to afford the aging
theater's many long-needed repairs, Community
Players closed it in 1991. The City of
Huntington demolished it in 1994.
Opened in 1941, the Beverly Theater drew loyal audiences
for the next 30 years. It closed in 1971 when it was sold
and converted into a grocery store. In the years
since; it's housed various businesses.
In 1947, businessman Ray Tinsley built the small Waco
Theater at 3028 Piedmont Road in the Westmoreland
neighborhood. It operated only for only a brief time.
The Westmor Theater on Adams Avenue at West 12th Street
opened in the early 1940s and closed in the late 1950s.
Guyandotte's Mecca Theater was opened at 210 Main St., in
the late 1930s. Today, the building houses a glass company.
Surely the city's earliest neighborhood theater was the Margaret,
located on the northwest corner of 8th Avenue and 20th Street.
The theater was built in the early 1920s by a local coal magnate,
William E. Deegans, who named it in honor of his late wife.
The theater came under new ownership and was renamed
the Uptown Theater following Deegans' death in 1944.
It closed in the early 1950s. The building currently
houses a used appliance store.
-----------------------------------------------------------
Note: This Article and picture appeared in the Herald-Dispatch Newspaper on Apr. 5, 2022.
-----------------------------------------------------------
[ Back ]