Ohio River Railroad
------------------------------------------------------------------------------------------------------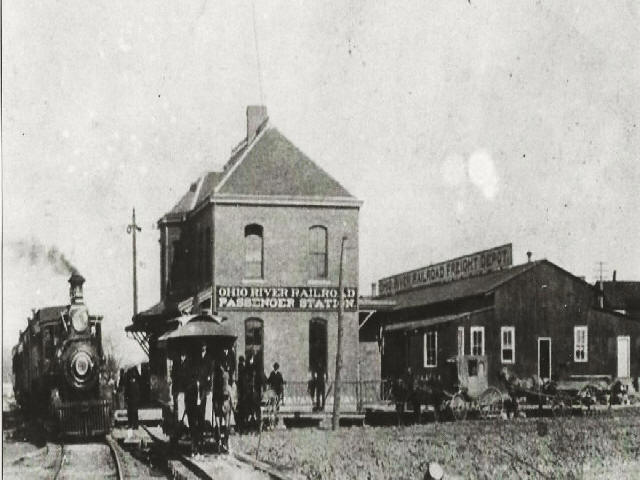 Today's Heritage Station was built by the Big Sandy Railroad in 1890.
Later it was acquired by the Ohio River Railroad
and still later by the Baltimore & Ohio.
------------------------------------------------------------------------------------------------------
HUNTINGTON — Many people looking at the accompanying photograph will immediately
recognize it as Heritage Station, long a local landmark. A close look at the photo reveals
a sign on the structure identifying it as the Ohio River Railroad Passenger Station.
The building behind it is the railroad's freight depot.
The story of the Ohio River Railroad is an all-but-forgotten chapter in Huntington's history.
Looking back, it seems inevitable that a railroad would be built that followed the
Ohio River as it borders West Virginia. A group of Wheeling businessmen
set out to build such a railroad, chartering it in 1881 as the
Wheeling, Parkersburg and Charleston Railroad.
A year later, the charter was changed and it was renamed
the Ohio River Railroad (ORRR).
In 1883, construction gangs began work on the new railroad, pushing its track
down the river. The ORRR reached Parkersburg in 1884, Point Pleasant
in 1886 and Guyandotte in 1888. From there, its trains traveled
over the tracks of the Chesapeake and Ohio for the
three-mile trip into Huntington.
Four years later, in 1892, the ORRR took over the locally developed
Huntington & Big Sandy Railroad. By buying the small local
railroad, the ORRR acquired track that ran from
Guyandotte to Huntington and
then on to Kenova.
In 1890, the Big Sandy had built a handsome two-story passenger station and
freight depot in Huntington. These became the property of the ORRR.
The Baltimore & Ohio Railroad took over the ORRR in 1912, and
the B&O became affiliated with the C&O Railroad in 1962.
The old ORRR station — known for most of its life
as the B&O depot — was no longer needed
and so was closed in 1965.
Saved from the wrecking ball, the old passenger
station and freight depot were fashioned into
Heritage Village in 1978.
The former passenger station is now home to the Cabell-Huntington
Convention & Visitors Bureau while the freight depot
houses a variety of shops and businesses.
----------------------------------------------------------
Note: This Article and picture appeared in the Herald-Dispatch Newspaper on Mar. 17, 2020.
-----------------------------------------------------------
[ Back ]