Old Guyandotte Bridge
------------------------------------------------------------------------------------------------------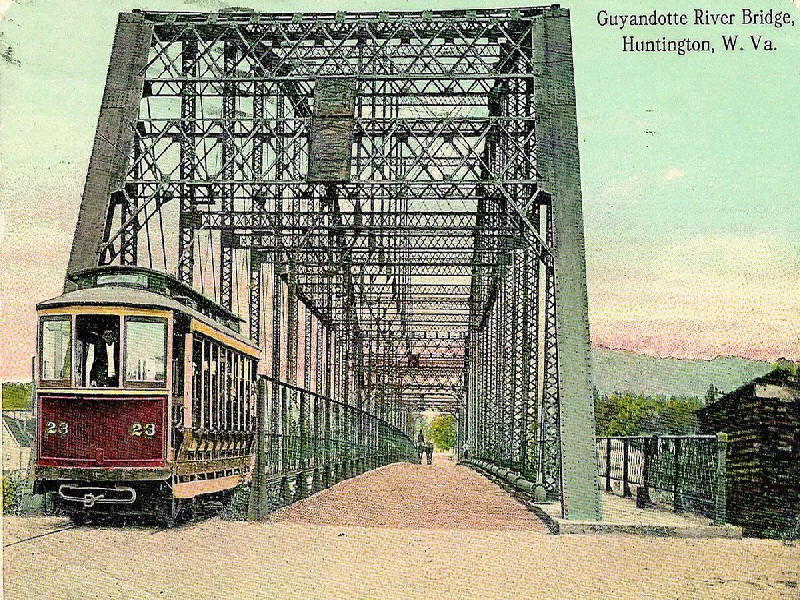 A streetcar makes its way across the Old Guyandotte River Bridge.
------------------------------------------------------------------------------------------------------
HUNTINGTON -- Guyandotte originated as a frontier trading post and was a thriving
place long before Collis P. Huntington appeared on the scene and built his new town.
The Virginia General Assembly granted an official charter to Guyandotte in 1810, and by the 1830s
the little village had become a busy stagecoach stop and would become an important steamboat landing.
When Cabell County was carved out of Kanawha County, Guyandotte was designated the first county seat.
In 1854, John Laidley, Peter Cline Buffington and a half-dozen other Guyandotte businessmen formed
the Guyandotte Bridge Co. and started work on a suspension bridge across the Guyandotte River.
The bridge was completed and opened in 1856. Initially the span was a toll bridge,
but the county later acquired the bridge and removed the tolls.
In 1907, the original suspension bridge was replaced by the steel truss bridge shown on the
vintage postcard printed with this article. The postcard was mailed in 1912, just one year
after the citizens of Guyandotte voted to be annexed by the citizens of Huntington.
The new bridge, which connected Guyandotte with Huntington's 3rd Avenue, had tracks
and overhead wires for the streetcars operated by the Ohio Valley Electric Railway.
Note the metal fencing that ran along the streetcar tracks, keeping other traffic away from them.
A walkway ran along the other side of the bridge, positioned so that the span's
steel girders stood between the pedestrians and the bridge traffic.
This bridge and a similar steel truss bridge that was erected across the Guyandotte
at 5th Avenue in 1926 have long since been replaced by modern concrete spans.
-----------------------------------------------------------
Note: This Article and picture appeared in the Herald-Dispatch Newspaper on Jun. 01 , 2015
-----------------------------------------------------------
[ Back ]