Old Huntington High School
------------------------------------------------------------------------------------------------------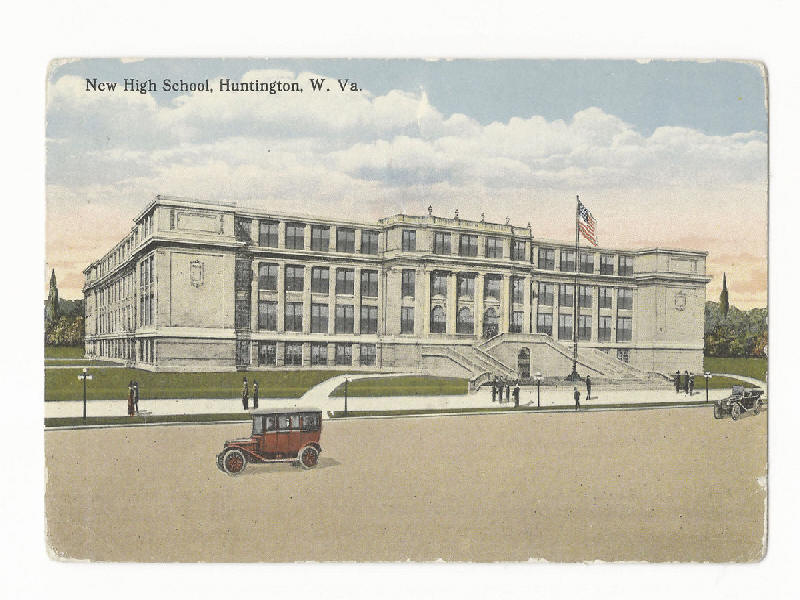 This vintage postcard was issued shortly after the old
Huntington High School opened in 1916.
------------------------------------------------------------------------------------------------------
HUNTINGTON -- In 1888, the city of Huntington built a new, red-brick school building at 5th
Avenue and 13th Street and named it in honor of the recently deceased Gen. John Hunt Oley.
The building housed all grades, from first grade through high school. Later another building
would be built just east of the original structure and the upper grades were moved there.
(Both buildings were demolished some years ago.)
Huntington was rapidly growing at the time and the original buildings soon were no longer
adequate to house all the grades, so officials decided to build a new high school.
Controversy ensued when a site was picked on 8th Street between 9th and 10th avenues.
Many people felt this was too far out of town. You see, at that time the town was
pretty much confined to the narrow strip of land between the Ohio River and the
C&O Railway tracks. The land south of the tracks was still mostly farmland,
with only a few scattered houses here and there. Indeed the construction of
Huntington High proved to be an important factor in attracting residents
to the South Side and making it a popular neighborhood.
Architect Verus T. Ritter designed the new school. The talented Ritter was responsible
for designing some of the city's best-known buildings, including City Hall, the
First Huntington Bank Building (now the downtown branch of Barboursville's
First State Bank) and Johnson Memorial Methodist Church, among others.
Huntington High welcomed its first students on Sept. 4, 1916, and was designed to hold
1,100 students. But as the city continued to grow, it struggled to accommodate many
times that number. By the late 1930s, it was so overcrowded that students were
attending in shifts, with half the student body going to classes
in the mornings and the other half in the afternoons.
The opening of Huntington East High in 1940 put an end to that overcrowding
and let the HHS student body return to a more normal size.
In 1996, when Huntington High and Huntington East High were merged and jointly
moved to a new building on W.Va. 10, the old HHS stood vacant for some
time, but later was restored and renovated as a multi-use community
facility that houses senior citizen housing, an arts group
and a branch of the Huntington YMCA.
-----------------------------------------------------------
Note: This Article and picture appeared in the Herald-Dispatch Newspaper on September 4, 2017.
-----------------------------------------------------------
[ Back ]